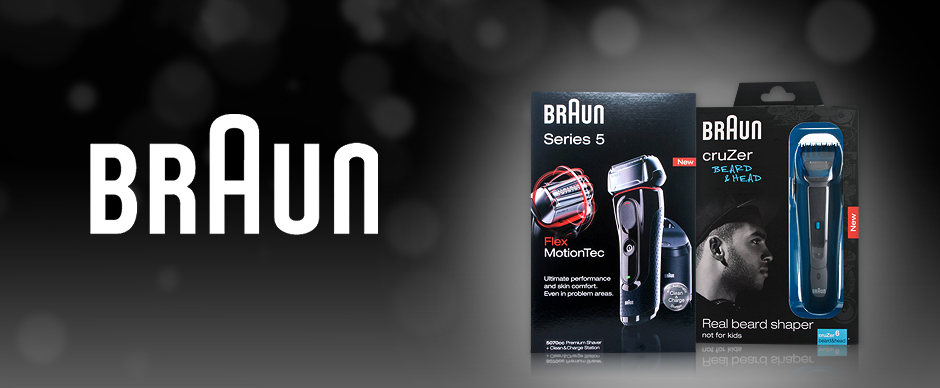 Braun is an internationally renowned brand for small electrical appliances including shavers, epilators and electric toothbrushes. From humble beginnings Braun has grown into a global brand. It is now part of Procter & Gamble (P&G) which is the largest consumer goods product company in the word. The company began in Germany 1921 when engineer Max Braun set up a small engineering shop to produce radio parts. By 1929 Braun was making complete power amplifiers and radio sets and became one of the first manufacturers in Europe to combine radio and record players into a single unit.
During World War II the Braun factories were nearly destroyed entirely but after 1945 Max Braun set about rebuilding his company and had 150 employees. In 1950 he launched the first electric shaver - the 'S 50' which combined an oscillating cutter block with an ultra-thin, stable steel foil clamp above it. This principle, although refined and modernised, is still used in Braun shavers today.
When Max Braun died in 1951, his sons Artur, a trainee engineer, and Erwin, a business graduate, took over. The brothers brought in set-designer Dr Fritz Eichler to give the company a facelift. In 1955 interior designer Dieter Rams was employed and his influence led to many Braun products being selected for prestigious collections.
In the 1960s Braun electric shavers became a key business segment for the company along with other household products, and the company began to expand to international markets. By the 1970s hand-held hairdryers were also being developed along with other styling products. Shavers, however, became, and remain, the biggest business segment for Braun, featuring many design innovations.
By the 1990s the company introduced two new important ranges - electrical oral care and female hair removal. A unique partnership between Braun and Oral-B led to the creation of the electric toothbrushes designed by the Braun design team. This partnership is still in existence under P&G. Braun also acquired Silk-epil epilators and expanded this into an international brand for the female market.
Today, Braun focuses on male grooming with its Braun Series electric shavers, female grooming with Silk-epil epilators and Satin Hair with hair care appliances. In addition it produces a range of household goods such as food blenders. It is a global market leader for foil shavers, epilators and hand blenders. Among others, the Braun range comprises beard trimmers, body groomers, hair care appliances, foil shavers, epilators and lady shavers. It operates five plants in Germany, Ireland and China and employs over 4,000 people worldwide.
The company's headquarters is located in Kronberg, in Germany, where parent company Procter & Gamble operates its 'Global Center of Excellence for Devices'. Braun is one of 23 P&G 'billion dollar brands'. The company is renowned for the reliability and sustainability of its products, upholding the philosophy of its former Head of Design Deiter Ram who said: "Good design is concerned with the environment. It can and must contribute to the maintenance and protection of resources."