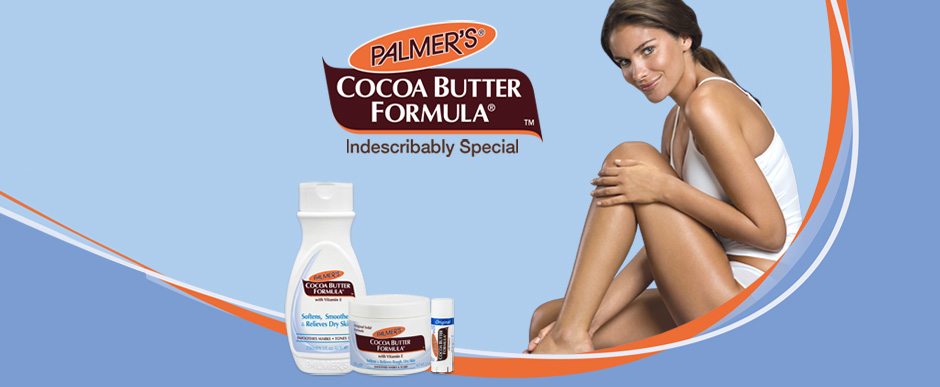 The history of Palmer's
Palmer's is one of the biggest names in skin care and is the #1 cocoa butter in the world. Their Cocoa Butter Formula range is the first brand to offer a full line of products including creams, lotions, lip balms, soaps, body oils andof course the original Cocoa Butter Solid Formula.
E.T Browne Drug Co, Inc., the parent company of the Palmer's brand was founded over 160 years ago and was one of the very first in America to launch a full body care brand made of pure cocoa butter. Family owned since the middle of the 19th century, E.T Browne Drug Company has been under current ownership since 1971 and headquartered in New Jersey for over 50 years.
Palmer's is best known for their iconic Cocoa Butter Formula line that offers body butters, lotions and creams which intensely condition and nourish the skin. Not only that, but natural cocoa butter is also known for helping to improve the appearance of scars and stretch marks. That's why Palmer's Cocoa Butter Formula can be used on all types of skin every single day!
Palmer's have always been dedicated to producing only the highest quality natural skin care and hair care products, no matter what your needs are. That's why they've included products for severely dry skin, uneven skin tone, stretch marks and ageing skin, all with the best quality ingredients straight from mother nature. You can take your pick from a delicious range of natural ingredients including cocoa butter, olive butter, shea butter and coconut oil that all provide some amazing benefits to your skin. All Palmer's products are also bursting with powerful antioxidant vitamin E and have abilities to protect skin against damage.†
Alongside their classic lotions, butters and creams, Palmer's have also introduced their complete Skin Success range for problem skin. It includes products that are specially formulated for uneven skin tones and acne-prone skin each are specifically tailored to different skin types. So whether you have oily, dry, combination or sensitive skin, Palmer's have developed the right treatments to leave your skin even, clear and radiant.
Palmer's not only ensures that your skin receives the best care, but they've also used the same amazing ingredients in their hair care collection that includes shampoos, conditioners and treatments. Their Olive Oil and Coconut Oil Formula will †leave your hair strong, shiny and silky soft and can revitalise dry and damaged hair.
To this day, Palmer's is still one of the biggest names in the beauty industry and keeps on delivering high quality skin care with high quality ingredients!