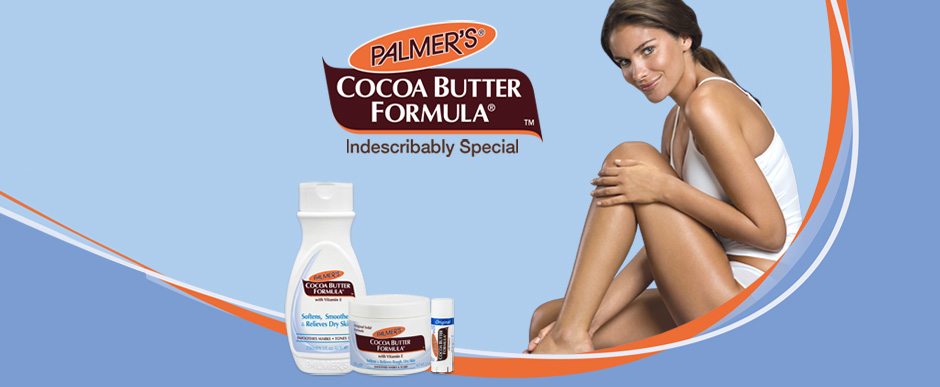 Palmers make sure that their products are packed with high quality ingredients so that your skin receives nothing but the best.† They fill their formulas with some of nature's greatest gifts like cocoa butter, coconut oil, olive butter and shea butter that nourish and condition your skin from top to toe, as well as wondrous vitamin E for its antioxidant powers.
Cocoa butter:
Not only does cocoa butter smell absolutely delicious, but it is also a skin-loving ingredient that provides many amazing benefits. Its completely natural make-up and fatty acid content means that it is not only able to moisturise the top layer of skin, but it goes further to provide intense nourishment deep down. As a natural emulsifier, cocoa butter softens and conditions the skin, making it the perfect treat for skin that is prone to dryness. Thanks to its nutrient and antioxidant content, cocoa butter is also used for stretch marks and can keep your skin supple and smooth. With a luscious chocolate scent, cocoa butter is an amazing treat for your skin and your senses!
Shea butter:
Much lighter than cocoa butter, Shea butter is a gorgeous moisturiser that is packed with lipids, vitamin A and oleic acid, making it the perfect ingredient for body butters, creams and lotions. Shea butter has become famous for its skin-nourishing and moisturising properties and its soft nutty scent. As a light emollient, it leaves the skin feeling beautifully soft and smooth and enhances your skin's natural, healthy glow.
Olive butter:
The Extra Virgin Olive Oil used within Palmer's Olive Butter Formula range is a real Mediterranean treat for your skin. It penetrates deep into the skin in order to protect your its natural moisture barrier, providing your skin with ultimate hydration. Its lipid structure enables the butter to be easily absorbed into the skin to leave it beautifully soft and supple. Its key active ingredient is the vitamin E, which is a powerful antioxidant that helps to protect †skin against damage like premature ageing. It helps to keep your skin in optimum health, while promoting a healthy, natural and youthful radiance.
Coconut:
Coconut oil makes your skincare regime a little more exotic and takes you to a paradise of hydration and moisture. Rich in vitamins A and C and natural proteins, coconut milk is amazing for our skin as it naturally soothes and moisturises. Ultimately, coconut milk promotes healthy and glowing skin and prevents dryness by helping your skin to replace and retain moisture. Its added nutrients can also help to slow down the visible ageing process by maintaining firmness and elasticity in the skin. Coconut oil is also an amazing conditioner for your hair as it nourishes from roots to ends and promotes long, thick and lustrous locks.