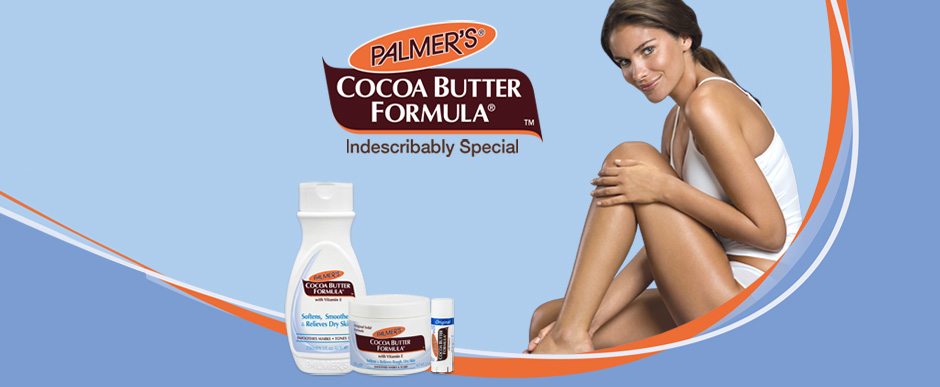 Palmer's and pregnancy: The Cocoa Butter Formula for stretch marks
Because of cocoa butter's ability to condition and nourish the skin, it has become a well-known ingredient that is effective for reducing the appearance of scars and stretch marks. It's all thanks to cocoa butter's moisturising properties to keep the skin hydrated, soft and smooth. 
About stretch marks
As your body grows during pregnancy, your skin stretches to accommodate the baby growing inside and unfortunately that can result in stretch marks. Stretch marks are formed when the body goes through a spurt of growth that is faster on the inside than on the outside. This causes the collagen fibres deep within the skin to stretch and tear, resulting in scar tissue or stretch marks.
Stretch marks are narrow, streak-like lines that can develop on the surface of the skin. They are also sometimes known as stria or striae.
Although there is no way to cure stretch marks completely, you can do a number of things to improve their appearance.
Palmer's range for stretch marks
Palmer's have combined their Cocoa Butter expertise with highly effective ingredients to design a specific range of pregnancy stretch mark products. Applied as soon as you become pregnant, Palmer's range can help improve the appearance of stretch marks by keeping skin moisturised and maintaining skin's natural elasticity.
Palmer's range now contains Bio C-Elaste?, a new advanced blend of stretch mark fi ghting ingredients including Collagen, Elastin, Centella Asiatica, Argan Oil and Sweet Almond Oil. The range
has been proven to help improve the skin's elasticity* in 97% of women tested.
Palmer's trusted range for stretch marks does not contain Vitamin A. The range is Dermatologist Tested, Hypoallergenic, Paraben and Phthalate Free and has a light scent.
Mum & Baby from Palmer's
Palmer's has all stages of pregnancy covered! Not only does Palmer's promise to take care of your skin through pregnancy, but they also take care of your skin as a new mum while looking after the delicate skin of your little one. Their Firming Butter and Bust Cream can help to firm and tone the skin after pregnancy, as the collagen and elastin enriched formulas provide additional support of the elastic fibres of the skin to ensure your skin is back to its best natural condition.