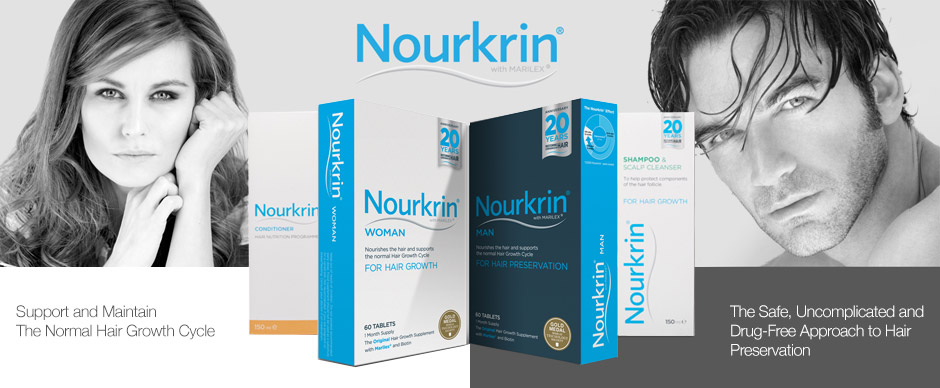 Nourkrin is a food supplement that has been specifically designed to nourish hair and support its healthy growth. Nourkrin blends ingredients that work in conjunction with a normal hair growth cycle to normalise the overall function of the hair follicles. Its unique formula has been designed to help regain hair which may have been lost through a variety of different factors such as:
Stress
Hormones
Genetics
Health
Medicine
Diet
Nourkrin is the only product in the world to contain Marilex® setting it apart from other hair regrowth products. Each tablet contains a unique amount of this active ingredient which is approved by authorities all over the world (includes FDA and EFSA). It also contains Acerola and Cherry Extract which feature highly nutritive value and antioxidants, along with Silica, horsetail extract and D-Biotin. It is used worldwide by trichologists, dermatologists and HCP's to tackle a range of hair loss conditions among men and women.
How to Take Nourkrin
Nourkrin comes in a small and convenient tablet and should be taken twice a day for a 6 month minimum. After the 6 months you should see a noticeable difference in your hair. You may choose to carry on with the treatment to maintain the results achieved through Nourkrin by continuing with this regime. The Nourkrin range also features Nourkrin shampoo, conditioner and scalp lotion which can be used alongside the supplement to enhance results.