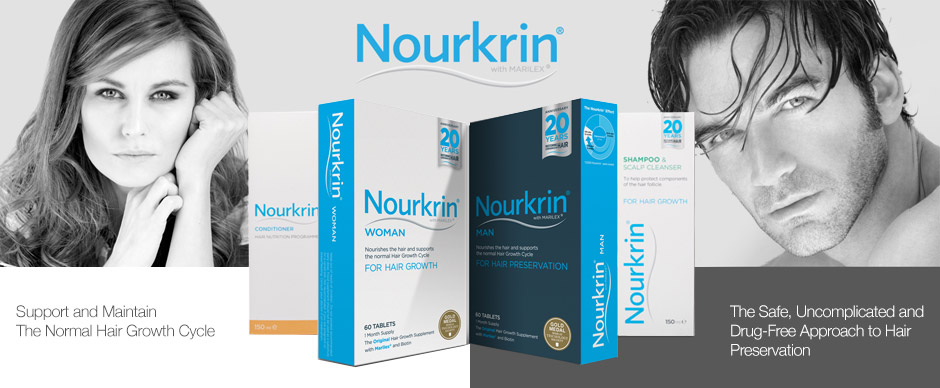 How can Nourkrin help me?
Nourkrin offers men and women a safe, natural and scientifically proven solution to hair loss and thinning whilst helping to restore healthy, shiny and thicker looking hair. It is estimated that on average 40% of women and 50% of men experience hair loss in the UK.
In order to maximise results Nourkrin has a multi therapy program for both men and women. This approach features the Nourkrin supplements along with topical applications depending on the condition involved. Nourkrin supplements can be used along with Nourkrin Shampoo, Conditioner and scalp lotion to maximise results. The shampoo and conditioner can be used in place of your normal products during the 6 month period to aid hair re-growth.
Benefits of Nourkrin
Scientifically proven and based on more than 20 years of research, development and clinical studies
Contains unique active ingredient Marilex
Work in conjuction with your own hair growth cycle to normalise its function.
Stimulates dormant hair follicles and encourages them back into the growth phase.
Provides nutrition to improve life and function of your hair
35.7% more hair after 6 months clinical treatment
100% drug free and made with natural ingredients
Before And After