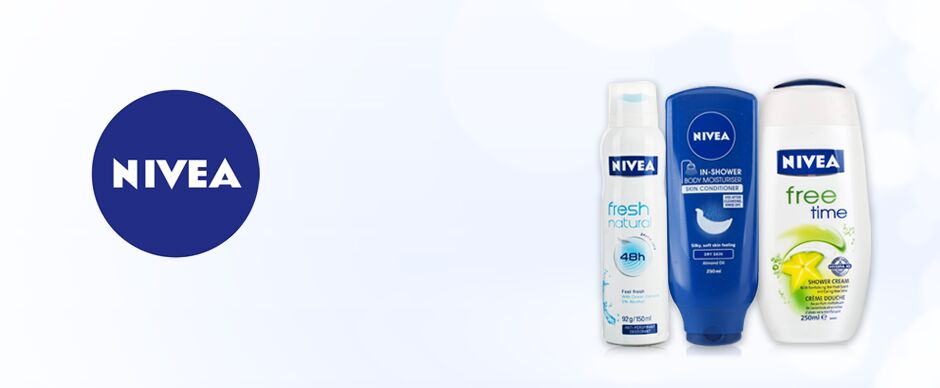 Complete skincare with Nivea essentials
Nivea has your entire beauty regime covered and has everything you need to get your skin feeling better than ever before. All day every day, all skin types can be at their best so that everyone can feel great from the outside, in. Every single Nivea products ensure that your skin receives only the best care to keep you looking healthy and radiant from your morning to evening skincare regime. From body washes and lotions to cleansing wipes and deodorant, keep your skincare simple with all of your essentials from Nivea.
Body care:
Nivea is focused on soft, smooth and supple skin, which is why their body care products all provide you with the right moisture and nourishment to ensure your skin stays this way. All of their body lotions can be used all over the skin to leave it feeling silky soft and irresistible. Their rich and creamy moisturisers provide intense hydration for all skin types and their Nivea Creme Original has been a real beauty classic since 1911. Also, give their new In-Shower Body Moisturisers a try, as they make your skincare routine incredibly quick and simple and keep you looking and feeling beautiful from top to toe.
Face care:
The skin on your face needs different care to the skin on the rest of your body, due to the fact that it is more delicate and sensitive. It is also the skin that is mostly exposed to the harsh elements that we face throughout the day, so needs that extra love and care. Remove that makeup with facial wipes tailored to different skin types and refresh your skin while eliminating oil, impurities and dirt with cleansers, exfoliators and toners. Provide the right amount of moisture and hydration with their range of day creams and take care of ageing skin with their anti-ageing facial creams and serums. You could also give their BB Cream a try that moisturises the skin while providing 5 skin benefits in just one tinted cream.
Hand care:
Our hands also need some extra care as they battle external factors every single day. Especially in the harsh weather, our hands suffer the most and need extra moisture. That's why Nivea's hand care range includes a wide selection of products that provide intense hydration to keep your hands feeling amazingly refreshed, soft and supple all year round.
Lip care:
Not only do our faces need special care, but the skin on our lips is even more delicate so taking care of them is essential. Our lips are easily dried out in cold, harsh weather and can also be easily damaged by the sun. All year round use Nivea's Lip Butters that come in a range of delicious flavours that are good enough to eat! Take your pick from Raspberry Rose, Caramel or Vanilla and Macadamia or even the Nivea Original for classic lip care. In the cold weather, use Nivea's Essential Care for long-lasting protection and care and in the summer months use Nivea Sun Protect with SPF30 to keep your lips healthy and protected.