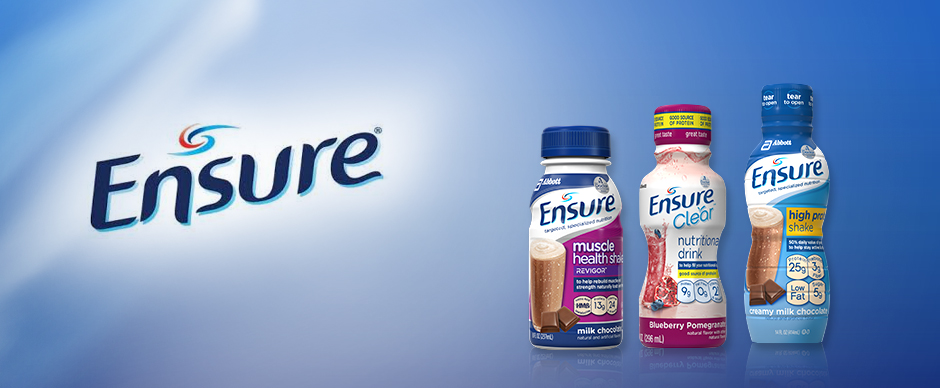 With so many supplements and power drinks available on the market, it may be difficult to know the difference and which to choose for putting on weight. In most cases energy drinks promote weight loss, but it may be hard to find a product that will help you gain weight.
What?
Ensure Plus, manufactured by Abbott Laboratories, is just such a ready-to-drink nutritional shake that is available in a wide variety of flavours like butter pecan, dark or milk chocolate, strawberry, vanilla, and much more. Each can contains 8 ounces of beverage and is high in calories and proteins to help promote healthier weight gain.
When it's the right time to drink Ensure Plus
For some people, eating large amounts of in order to put on a healthy amount of weight is not feasible, and it is during this time that drinking Ensure Plus shakes can really help you out. If you've been suffering from a long term illness, recovering from a recent surgery, or elderly and not able to digest fat, Ensure Plus is for you. Products from the Ensure Plus range can help you to fill in the nutritional gaps in your diet. You may also use them for a either a short or long term basis.
Nutrients
Ensure Plus shakes provide you with 350 calories and 13 grams of protein in each 8 fluid ounce can. A single serving contains 24 essential vitamins and minerals, which is the amount of vitamins and minerals the body needs based on a diet that contains 2,000 calories per day. Ensure Plus can also help promote better heart health as it includes 650 milligrams of plant-based omega-3 fatty acids called alpha-linolenic acid. These drinks are also suitable for those on gluten-free diets.
Serving Ensure Plus
Ensure Plus works the same as other liquid nutrition supplements and should be well shaken before consuming. You can serve it cold or over ice if you want a cooler more refreshing taste. Since Ensure Plus is a rich source of concentrated calories you can even use it as a meal replacement. If you wish to use these shakes aside from meal times, we suggest that you use it between meals or after a meal to prevent decreasing your appetite for a proper meal.
Another tip is that you can use Ensure Plus milk to make smoothies, milk shakes, cream-based soups, casseroles, and any other milk-based recipe. This will help you boost the calories, protein, and nutrients in simple meals.
Remember that even though Ensure Plus is available without prescription, it should not take the place of a healthy diet and regular exercise to help you stay healthy over all. It should complement your diet and should not be seen as the sole source of your nutrition, unless you are under medical supervision and must do so upon your physician's recommendation.