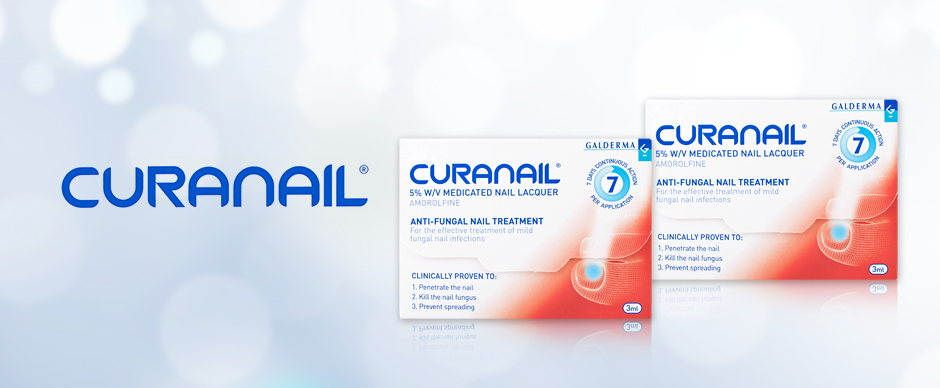 Q. I've seen a picture of a fungal nail infection but I'm still not sure if that is what I'm suffering from. Any tips?

Fungal nail infections can be identified by certain key signs. Some of these include:
White, yellow or brown discolouration
Thickening of the nail
Build-up of debris under the nail
Scaliness
Distorted shape
Brittleness
If you suspect you have a fungal nail infection, your local pharmacist can help confirm the condition and also help with treatment advice.
Q. I regularly use my local gym and have started to wear flip flops in the communal changing rooms to stop me getting athlete's foot and verrucas. Will that stop me from getting fungal nail infections too?

Hot and humid communal areas are a breeding ground for infections of the feet and nails. Wearing flip flops will certainly reduce the chances of catching and spreading these infections, including fungal nail infections.
Q. I read somewhere that if you've got athlete's foot then you are more susceptible to developing a fungal nail infection. Is there any truth in this?

This is absolutely true. Over 90% of fungal nail infections are caused by the same fungus that is responsible for athlete's foot, so it's important to treat athlete's foot as early as possible to minimise the likelihood of it infecting the nails.
Q. My 16 year old son has got what appears to be a fungal nail infection. Can he use Curanail?

Curanail can only be used by people aged 18 and over, but that's not to say he can't get treatment for it. He just needs to go to his surgery so his GP can check it out and prescribe something appropriate.
Q. I've got two infected toes on one foot and one infected toe on the other foot. Can I still use Curanail?

No, as it can only be used on a maximum of 2 nails in total (not per foot). Treatment is still available but you need to go to the doctor for that.
Q. I'm diabetic and generally have to keep an eye on my feet as diabetes makes me prone to infections. I've noticed recently though that the nail on my big toe has got slightly discoloured. Can I treat it with Curanail?

It's good that you're keeping a close watch on your feet. However, Curanail can't be sold over the counter to diabetics. You should go back to your doctor or diabetic nurse to get it checked out. If it is a fungal nail infection the doctor will be able to prescribe something for it.
Q. I'm using Curanail at the moment but have been told I'll need to use it once a week for at least the next 6 months. Any tips on keeping up with the treatment? I can see myself forgetting to use it.

Don't worry, you're not alone. The reason Curanail treatment is so long is that it takes around 6 months for fingernails and 9-12 months for toenails to grow out and replace the infected ones. But it's important to stick to the treatment, especially in the first 3 months when improvement may not be so visible. The once weekly application should help. Other tips include:
picking the same day each week when you always apply the treatment
trying to build it into a routine, for example, after a bath, shower or following a regular sport activity
using the nail templates in the Curanail packs to help you monitor improvements and give you encouragement
Q. My fingernail looks like it could have a fungal nail infection. Can I use Curanail for it?

Yes, Curanail can be used for mild fungal nail infections of both finger nails and toe nails. Toe nail infections are generally more common than finger nail infections (7 times more common). Nevertheless, Curanail works equally well in both and the good news is that treatment times for finger nails tend to be shorter than for toe nails (around 6 months compared with 9-12 months for toe nails) as they grow more quickly and so the infection grows out sooner.
Ask your pharmacist or doctor for advice.