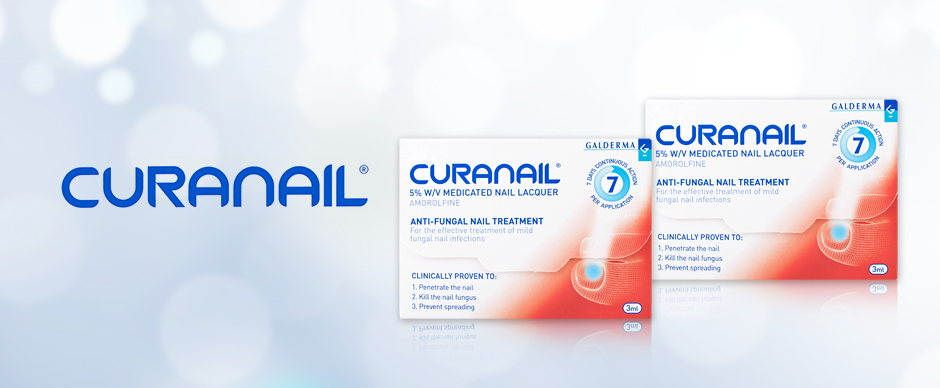 Curanail 5% Nail Lacquer is a once weekly treatment for mild fungal nail infections – for up to two nails – that is now available from the pharmacy.
Curanail contains the active ingredient amorolfine, an effective antifungal agent previously only available on prescription. Curanail kills a wide range of different fungi that can cause nail infections. This means that, for the majority of sufferers, Curanail can actually get rid of the infection.
In addition, Curanail comes in the form of a nail lacquer (like a nail varnish), which only needs to be applied once a week. This combination of effectiveness and convenience makes Curanail a first choice over-the-counter treatment for mild fungal nail infection.
Curanail is a clinically proven licensed antifungal treatment so it is different from cosmetic and antiseptic products available for nail infections
Curanail treats mild cases of fungal nail infections that start at the nail tip and spread down towards the base that are caused by fungi (dermatophytes, yeasts and moulds).
Easy and convenient to use so a single application treats the nail infection continuously for a week.
RRP £18.99 for around 3 months' supply (equivalent to an estimated £6.33 per month).
Customers can get extra support during their treatment from this website by downloading nail templates and patient diary cards to help follow their treatment progress and complete the treatment course.
How effective is Curanail?
Amorolfine nail lacquer is an effective treatment that has been shown to clear 85% of fungal infections of the fingernails and 76% of toenail infections (defined as clinical cure plus improvement) with 6 months treatment. Treatment for a fingernail infection is expected to take 6 months (the time for a new nail to re-grow) and about 9-12 months for an infection of the toenail.