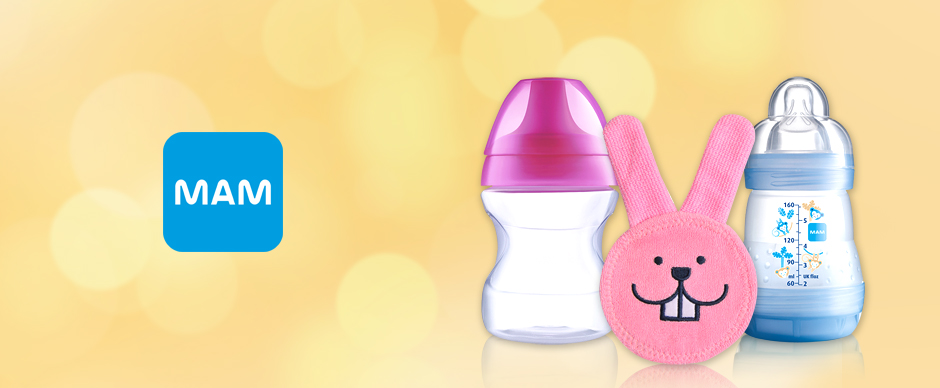 All MAM products are BPA free, but what does that mean?
Studies have shown that BPA might result in longstanding health problems, and as such many parents are concerned about the safety of their baby's bottles. While BPA (Bisphenol A) is used in the production of most plastic polycarbonate products it is not used for MAM products.
All MAM products are made from plastic polypropylene and are 100% BPA-free. Plastic used to make these baby products have undergone rigorous testing to ensure that the material is harmless and safe.
Do MAM products have plasticizers in them?
No, all MAM products are free of plasticizers. MAM only uses materials which fulfil the highest demands of safety standards.
How should MAM bottles be cleaned?
Baby bottles from MAM can be easily unscrewed and taken apart for cleaning. Being able to dismantle the different parts makes it easier to clean it thoroughly and rinse it well. You can wash it with clean drinking water and a mild cleaning agent. Additionally, you should use a steriliser for cleaning each part individually. Sterilising your baby feeding equipment is necessary especially for new-born babies.
When is it safe to stop sterilising my baby's bottles?
By the time a baby is six months old his defences are much more developed than at birth. At this age the need to sterilise the eating equipment after each use is much less, but it's still advisable to sterilise the bottle and teat from time to time. If you find your baby gets ill often, continue sterilising all dishes at least once in a day.
While preparing and heating foods for the bottle, what should I look out for?
Before placing the bottle inside a warm water bath or bottle warmer, the sealing cap should be removed. The contents of the bottle should not boil, so avoid pouring boiling hot liquids into it. Before feeding your baby, remove the bottle from the bottle warmer and dry it off on the outside with a clean cloth.
Are MAM bottle safe to use warm in the microwave?
Yes. MAM bottles are safe to use in the microwave. First remove the cap, ring nut, and teat then warm up the bottle by itself in the microwave. After heating stir the milk or formula a bit to allow the heat to be evenly distributed. Check the temperature before giving it to your baby to ensure it is not too warm.
How soon does the bottle teat need to be replaced?
It's always a good idea for the sake of better hygiene to change the teat at regular intervals. Checking the teat each time before you give your baby his bottle will help you to know if it needs to be replaced through tell-tale signs of wear and tear-especially if your baby already has teeth.
Are MAM bottle leak-proof when transported?
Yes. MAM bottles have an innovative protective cap that helps the liquid stay in the bottle. This makes it easier as you don't need to carry along sealing discs. You can simply place the protective cap on the bottle and you're ready to go.
Are MAM bottles shatterproof?
Yes, all the parts that make up a MAM bottle are shatterproof.
When should my baby make the switch from bottle to drinking cup?
When your baby is six months he is ready and eager for change and learning how to do things on his own. It is during this time you have the opportunity to teach him, among other things, the art of drinking from a cup. MAM provides you with MAM Trainer Bottles for boys and girls that provide them with ideal support to learn how to drink from a cup independently.