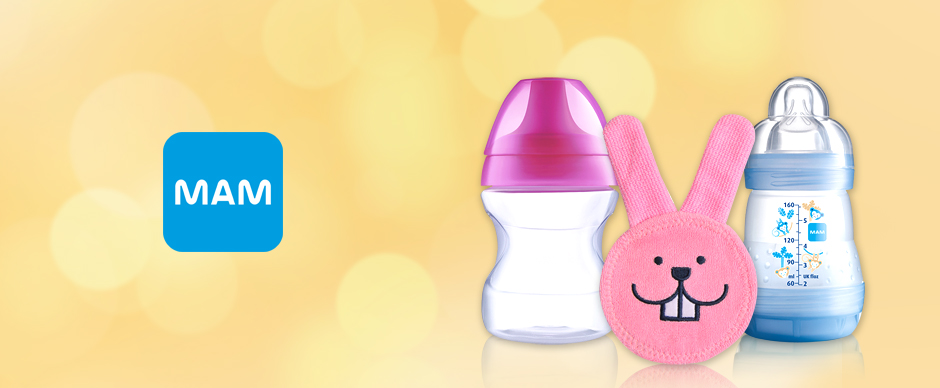 The shape and the size of your baby's soother are important. Orthodontic soothers help support your baby's jaw and teeth development, and for this reason MAM has collaborated with medical experts to develop and design innovative, orthodontically safe soothers that will meet your baby's various developmental stages.
Benefits of MAM soothers
MAM pacifiers have symmetrical teats and there is no top or bottom, so they can be put in your baby's mouth in any direction without causing harm to their oral cavity development.
MAM soothers are orthodontically safe for your baby because of the ventilation system that exists in the teat. When your baby closes his jaw down on the teat, the air inside the nipple is pushed out through the ventilation system, causing the nipple to flatten and adapt to the baby's individual oral cavity.
These soothers do not contain softening agents. MAM only uses the best materials that will be the expectations of safety standards of the FDA and EN 1400. All MAM soothers are completely baby safe.
These soothers do not contain BPA, PVC, Phthalate, or Lead.
Choosing the best soother for your baby
Even though MAM soothers are labelled according to age, these tips might help you in choosing the best soother for your baby.
Choose a one-piece model that will not easily break or cause the baby to choke.
Look out for models that are easy to clean and dishwasher safe.
The base of the soother should always have ventilations holes to allow the baby to breathe. Avoid soothers that have large circular shields that may disturb your baby's breathing especially during intense sucking.
One size doesn't fit all. Smaller and shorter soothers are best for new-borns and babies during their early months.
Don't attach strings or ribbons for the soother around your baby's neck. You can use MAM Clip and Cover products instead to stop the soother from always falling on the floor.
Avoid sweetening the end of the soother in honey or syrup as it can cause decay.