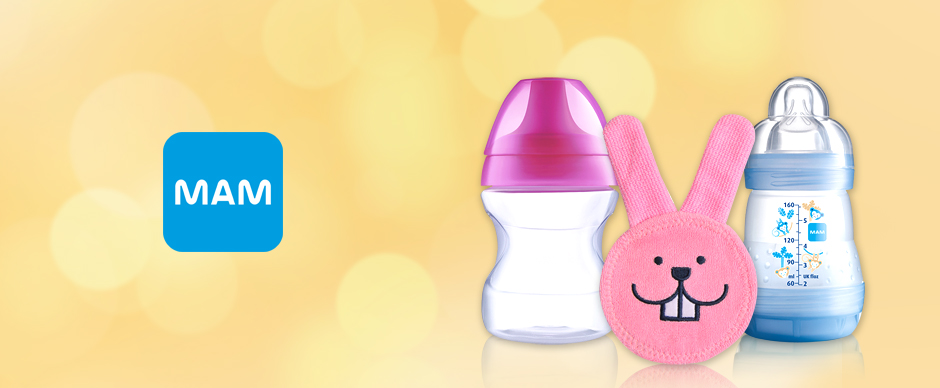 By the time your baby turns six months old, it's a good idea to introduce him or her to the privilege of his or her own sippy cup. MAM has a range of training cups that will help your baby make the transition from bottle or breast to drinking from a cup. These trainer cups have small handles that make it easy for your baby to get used to drinking on his own. A special feature of MAM trainer cups is that they have spill-proof valves that prevent leakage.
MAM trainer cups also prepare your baby for drinking from a normal drinking cup by featuring a 6 oz cup with a soft spout and a 9 oz cup with a hard spout. The slim shape of each cup helps your baby comfortably hold the cup and learn to drink on his own. Additionally MAM trainer cups are 100% free of BPA, Lead, PVC, and Phthalate.
Here are some tips to help you get your baby started in the world of sippy cups:
Don't get rid of the bottle completely. Keep it on hand to help your baby get used to a cup at his own pace. At first he'll mostly sputter and play around with the idea of the cup but later he will learn to master it.
Start with a lightweight MAM cup. It's easier to grasp and lift.
The easiest beverage to start feeding your baby from a trainer cup is water. It's clean and non-staining to your baby's clothes. However, in some cases, and with the aid of a bib, you can try him on fruit juice from the trainer cup. It might win him over to the idea of drinking solo sooner than later.
Show your baby how to raise the cup to his lips and tip it to drink.
If at first he doesn't succeed...give it some time and then try again.
Avoid introducing the training cup to your child when he is particularly grumpy or tired. He may get frustrated and it will be harder to try it again the second time.