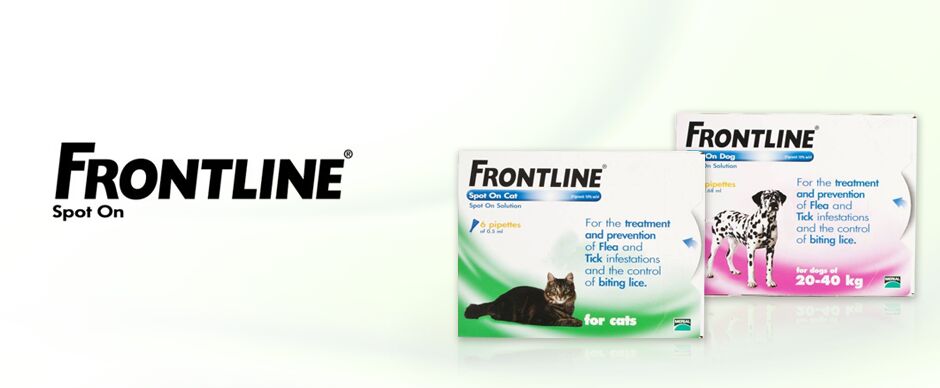 What is Frontline Spot On?
Frontline Spot On is a treatment for both cats and dogs that provides long-lasting protection against fleas and ticks, and controls biting lice.
Frontline Spot On contains fipronil, a phenylpyrazole licensed for use as a veterinary medicine. Fipronil is not an organophosphate compound.
How does Frontline Spot On work?
Frontline Spot On acts by direct contact with parasites and not via your pet's bloodstream. It kills fleas within 24 hours without requiring them to bite your pet.
Frontline Spot On is applied externally to your pet's skin on the back of the neck. The active ingredient, fipronil, quickly dissolves into the natural oils of your pet's skin and coat, dispersing over the entire body surface within 24 hours and concentrating in the skin's oil glands to form a reservoir.
Fipronil is then secreted with the natural oils of the skin and hair, continuously coating your pet's skin and hair for several weeks after application – in fact it's the longest-lasting spot on flea treatment available without prescription.
Frontline & Fipronil
Fipronil is a chemical and broad-spectrum insecticide that is used within Frontline to kill fleas and ticks. It is highly toxic to the insects and works by disrupting the insect central nervous system and causing over-stimulation of their nerves and muscles. It is licensed for use as a veterinary medicine as for quickly killing fleas and ticks. Fronline combines Fipronil with (S)-methoprene that attacks the eggs and larvae in order to stop the flea's life cycle altogether.