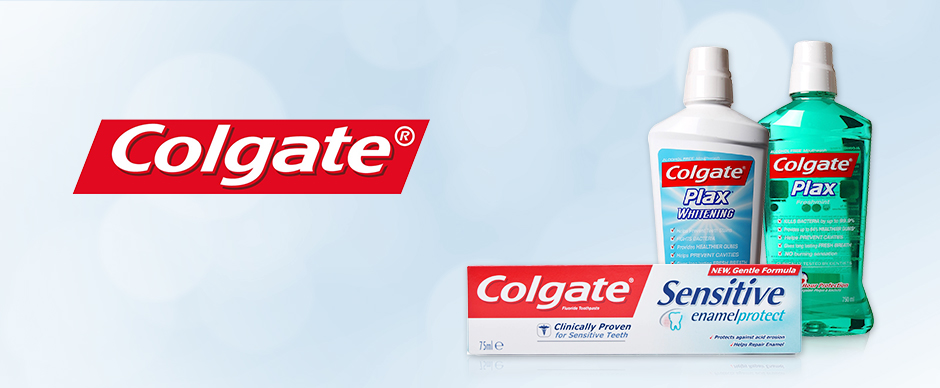 The Colgate healthy mouth routine
The key to a healthy mouth is establishing an oral health care routine twice a day. Protect your mouth and notice the positive impacts on your overall health and wellbeing with a healthy mouth routine and complete protection from Colgate. The healthy mouth routine should be carried out morning and night to ensure optimum oral health and ensuring:
Healthy teeth and gums with Colgate toothpastes
Beautifully clean teeth with Colgate toothbrushes
12 hour protection with Colgate mouthwash
Toothbrush:
The Colgate toothbrushes are specially designed with dental professionals to ensure they each take brushing to the next level. Each brush includes unique features that stimulate gums, clean hard-to-reach areas and remove plaque to leave your teeth feeling squeaky clean! They provide your mouth with an entire 360° clean and a 4x deeper reach to clean more effectively between the teeth for that dentist-clean feeling every single day.
Toothpaste:
Colgate toothpastes provide something for everyone whether you need teeth whitening, enamel strengthening or gum protection. Brushing is imperative for an all-round clean and Colgate toothpastes have even been FDA-approved and accepted by the American Dental Association for preventing gingivitis. All toothpastes from Colgate provide multi-benefits for complete oral care.
Mouthwash:
Your healthy mouth routine should be completed with a Colgate mouthwash to help strengthen enamel, eliminate plaque and bacteria and keep gums strong and healthy. Colgate Total introduces Pro-Shield Mouthwash, which is the perfect addition to absolutely anyone's oral health routine. It kills 99% of germs, while freshening breath and providing 12-hour protection against germs, even after eating and drinking. Simply rinse and gargle for a couple of minutes to complete your oral health routine.