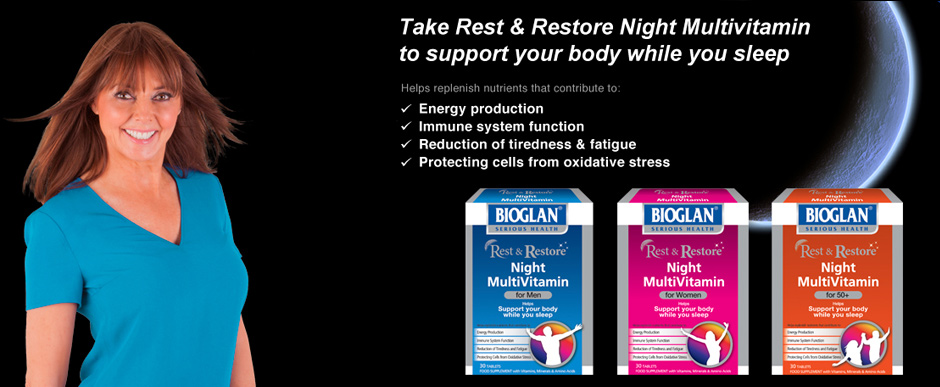 Night Multivitamins for men and women
Bioglan provides you with a range of night multivitamins for both men and women called Rest & Restore. These contain a balanced blend of vitamins, minerals, amino acids, and botanical extract that are scientifically proven to help support a busy lifestyle. Rest & Restore multivitamins contain
Vitamin D3
Vitamin E
Vitamin C
Vitamin B1
Vitamin B6
Riboflavin
Niacin
Folic Acid
Biotin
Calcium
Magnesium
Iron
Selenium
Betacarotene
Inositol
Amino acids
Botanical extracts
Why do I need night multivitamins?
The greatest natural source of vitamins and minerals is through the foods we eat; however, there are times when due to a lack of finances, time, or resources we are not able to pack into our diet all the nutrients we should be getting. Taking a quality multivitamin supplement like those found in the Bioglan range will help to fill in any nutritional gaps in your diet as well as replenish your everyday energy levels.
Rest & Restore multivitamins for men and women contain nutrients that you can take before you sleep that help:
support and enhance energy production
reduce tiredness and fatigue
replenish your body's nutrients
support health immune function
protect your cells from oxidative stress
How should I take night multivitamins?
Rest & Restore Night Multivitamins can be taken in the place of your daily multivitamin. One tablet should be taken each night after dinner with a cold drink, either water or milk. Do not that these vitamins should not be taken on an empty stomach.

If you are under medical supervision, expecting a baby, or breast feeding you should consult your healthcare professional before taking these multivitamins. Be careful not to exceed the recommended dosage unless you have been advised by a healthcare professional.

While Bioglan Multivitamins help you to get the right amount of vitamins your body needs each day, remember that no multivitamin will take the place of a healthy lifestyle and a balanced diet. Making the right choices each day to stay active, eat healthy food, and get proper sleep will go a long way in improving your overall health.