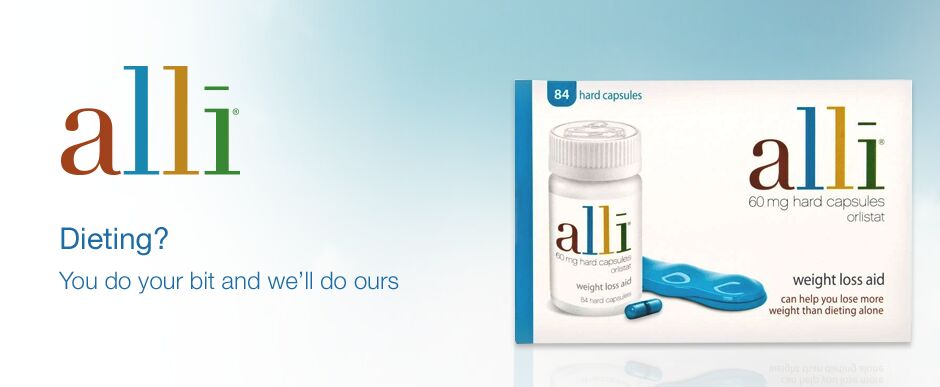 What is Alli and how does it work?
Alli Slimming Capsules are revolutionary slimming aids that make your hard work, work even harder. Alli is clinically proven to boost weight loss and can even help you lose an extra 1lb for every 2lbs you lose. These unique capsules are completely different to other slimming aids as they are actually designed to reward your weight loss efforts. Alli understands that everyone's weight loss journey is different, but nobody's journey is easy, which is why these capsules are specially designed to motivate you into working harder, to gain a healthier lifestyle and to maintain your healthy life for good.
How do Alli Slimming Capsules work?
Alli is a unique slimming aid and works completely differently to other weight loss supplements. It is not an appetite suppressant or stimulant but contains the active ingredient Orlistat, which helps to prevent some of the fat you eat from being absorbed into the body. The Orlistat in each capsule attaches itself to the body's natural enzymes that break down fat so that it is not absorbed.
Alli is by no means a magical slimming aid that will make you lose a lot of weight without any effort, but it instead promotes healthy, gradual weight loss that is gained through hard work. Alli requires you to make lifestyle changes and works best alongside a healthy, balanced diet and regular exercise regime. It rewards your efforts and can block up to 25% of fat that you eat from being absorbed and can help to boost your weight loss by 50% when you put the hard work in.
The Orlistat ingredient is not absorbed into the bloodstream, but works solely in the digestive system and prevents the action of certain enzymes that break down digested fats. Any fats that are not digested are later broken down and eliminated from the body.
The Alli Programme:
The Alli Programme will help to motivate you into eating healthily and exercising regularly in order to achieve your weight loss goals effectively. Weight loss is never easy and will always require hard work, which is why the Alli Programme can provide you with tips and support that will help you stay motivated to maintain the healthy weight you want.