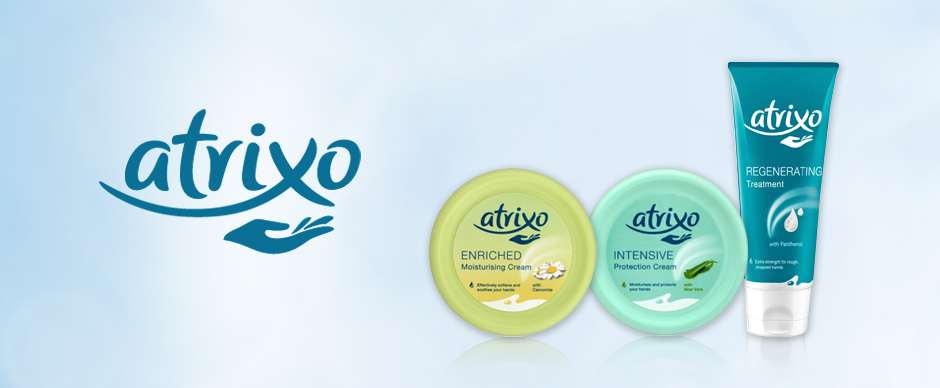 A Brief History of Atrixo
The Atrixo hand care range includes products formulated to provide long lasting protection against external influences to keep hands soft and smooth. All its ingredients have been inspired by nature, and Atrixo is dermatologically approved to be effective for all skin types.
The brand has been around for over five decades. Formulas include: Atrixo Enriched Moisturing Cream, made with natural camomile, Atrixo Intensive Protection Cream, containing aloe vera for intensive moisturisation to provide a protective layer for even the driest hands and Atrixo Regenerating Treatment formulated with panthenol to restore skin balance and to immediately soften chapped skin.
Atrixo is owned by Beiersdorf, along with NIVEA, Eucerin and Elastoplast. The company employs approximately 16,500 people in over 150 affiliates. Beiersdorf originated in 1882, launched by Paul C Beiersdorf a Hamburg-best pharmacist. Beiersdorf took out a patent for a new method of manufacturing medical adhesive dressings and the company grew from there. In 1992 Beiersdorf bought back the ATRIXO trademark from Smith & Nephew in the UK and in some ex-commonwealth countries.
Beiersdorf Group headquarters is based in Hamburg, but the UK affiliate is located in Birmingham, employing just under 250 people across marketing, sales, finance, supply chain, human resources and warehouse operations. Much of the Beiersdorf Group's knowhow comes out of Hamburg at the company's skin research centre. Here more than 1,500 studies on new skin care formulas and active ingredients are conducted involving 21,000 contacts with volunteers every year. The centre is equipped with 35 examination rooms with technology capable of measuring different changes in the skin.
More than 570 Beiersdorf researchers are helping to decode the metabolic processes that take place from individual skin cells down to the skin in its entirety as an organ. This has lead to the development of active ingredients - both those found in the skin and from other natural sources.
The company's annual research & development budget is around 150 million Euros. It's from the Hamburg centre that new products are developed and substances and formulas are tested to ensure they do not pose a threat to health and are compatible with the skin. This is done without animal testing. For more than 20 years Beiersdorf has been one of the world's leading and most respected research-driven enterprises with regards to its ability to develop in vitro alternatives such as cell culture tests.
The company's extensive dermatological expertise and high-quality research has led to many methods becoming established as global industry standards. For example, the introduction of the sun protection factor, which permits a scientific comparison of the effectiveness of sun protection products, was based on a Beiersdorf idea and quickly developed into a worldwide standard.
The Atrixo line of products come in handy sized packages ranging from 50ml handbag sized tubs, through to 200 ml containers. Specially formulated to provide long-lasting protection, Atrixo skin care products are ideal to save busy hands from the harsh outside and to keep even the driest of skin soft and smooth.