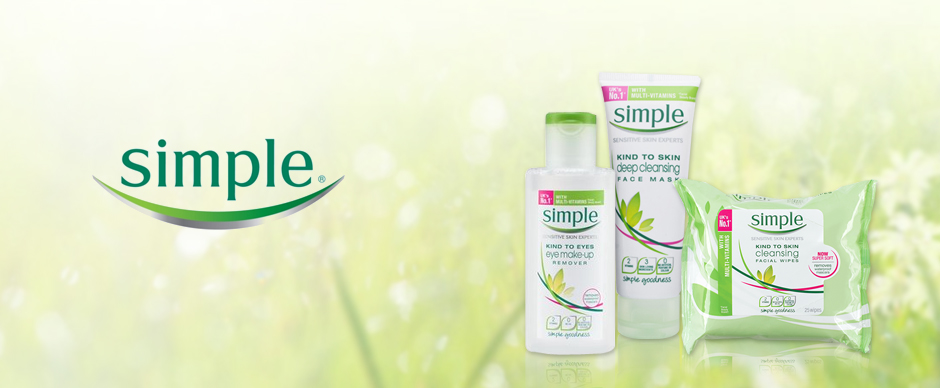 Top tips for sensitive skin
Skin is unique to every individual, which is why sensitive skin can be experienced in many different ways. Though it's not necessarily a skin condition, it can be managed and avoided by following some of these simple tips when considering your daily skin care routine.
Choose the right products:
Making sure you have the right products for your skin is imperative for keeping irritations at bay. Ingredients in skin care products are the top causes of irritating sensitive skin due to fragrances, harsh chemicals and colours. That's why it's important to pick skin care products like cleansers, toners and moisturisers that are specifically tailored for sensitive skin, as this means their formulas avoid using common irritants. Simple skin care is therefore perfect for completing any sensitive skin care regime as they use only the purest ingredients that will help to decrease your skin's sensitivity and leave it feeling completely clear, soothed and refreshed every single day.
Establish a good skin care routine:
Once you've picked the right products for your skin, it's time to put them to good use with a regular regime. A good routine that includes cleansing and moisturising will help you to maintain the condition of your skin's natural barrier and moisture levels. Remember to take your makeup off before cleansing to ensure your face is left feeling amazingly fresh and clear. Simple suggest following their Simple Sense Routine that includes deep cleansing, polishing, treating and protecting. As your skin accumulates dirt and makeup every day, you need to keep up your routine every morning or night to see the best results.
Different season, different skin care:
Your skin care routine should differ slightly with a change of the seasons. Weather is a major factor in the condition of our skin and the way that our natural barrier functions. In the winter, the weather is colder and the air is drier, which ends up leaving your skin feeling dry and tight. This is why your toiletries cupboard should have a thicker moisturiser for the winter to help lock moisture into the skin and prevent it from drying out. In the summer however, pick a lighter moisturiser before applying your SPF.
Patch test:
If your skin is sensitive then you'll know the feeling of using a new product that irritates your skin straight away. Rather than playing the guessing game and ending up with redness and stinging, always do a patch test on your skin when you introduce a new product into your skin care collection. The inside of the elbow is a good place to test the product and if you don't notice any irritation after a couple of uses, then it is perfectly suitable for you.