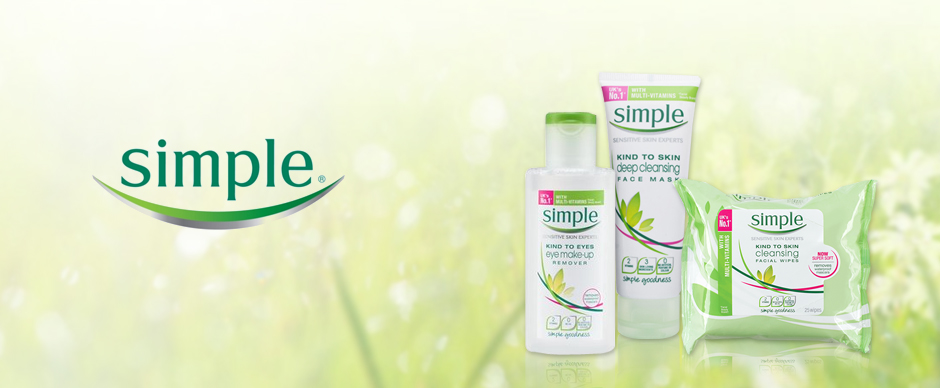 Do I still need to cleanse if I don't wear makeup?
Besides makeup, your skin still tackles pollution, dust and bacteria throughout the day that can also sit on your skin and clog your pores. That's why cleansing is an important part of everyone's day, not just for those who wear makeup, as it eliminates impurities and allows your skin to feel clear and fresh.
I don't always have the time to cleanse thoroughly, what should I do?
Simple understands that not everyone has the time to cleanse every day and some days may need to be skipped. This is why they've come up with their facial wipes to ensure quick and convenient cleansing at least once a day. All of their wipes are tailored to different skin types, so pick the one you feel will suit your skin and use on days when cleansing may not be an option.
Can you still use cleansing wipes for eye makeup?
Yes, of course! All of the Simple cleansers and cleansing wipes are suitable for removing makeup on both the face and eyes. The specific eye makeup removers however are specially formulated to remove eyeliners and mascaras so are generally more effective on even waterproof mascara.
What's the difference between cleanser and soap?
Simple don't recommend using soap and water to clean the skin, unless it is a specific cleansing bar, as most soaps are far too harsh for sensitive skin. Soaps also contain drying agents that can simply dry the skin, whereas cleansers and facial washes thoroughly cleanse while being gentle on the skin.
Will leaving makeup on overnight really damage my skin?
It won't necessarily damage your skin, but if it is sat on your skin throughout the night it will clog the pores and result in blemishes, blackheads and breakouts. If you don't have time to cleanse, tone and moisturise, keep a pack of Simple Cleansing Wipes by your bed to clear your skin in seconds.
What can I do to prevent spots?
There are many ways in which you can help to keep your skin clear, from healthy, balanced diets and drinking plenty of water to keeping on top of a regular skin care routine. If you find yourself with consistent breakouts, try cleansing both morning and night to give your skin the best chance of staying clear. Try the Simple Spotless Skin or Simple Clear Skin ranges that both contain natural anti-bacterial ingredients and are suitable for the most sensitive of skin.
What is toner?
Toner is recommended for use after cleansing. Cleansing works by opening up your pores to remove impurities and allow your skin to breathe. Toner is therefore used to tighten pores, remove oil and soothe the skin. It helps to balance the skin after cleansing and prepares the skin for moisturiser.
How do I know if I have sensitive skin?
Different people experience sensitive skin differently, so there is no set definition. Some people may feel their skin is sensitive every now and then, whereas others can notice their skin feeling dry and delicate every day. The most common signs of irritated skin include redness, tightness, tingling, stinging or dryness.