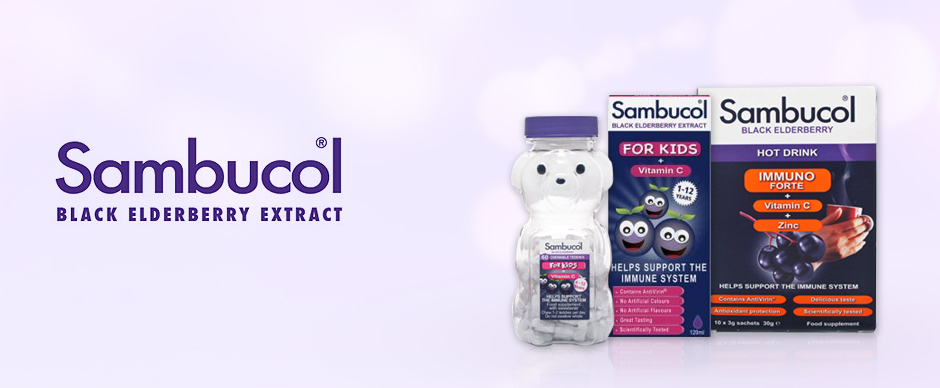 Sambucol contains elderberry, but what is elderberry good for?
Elderberry has been used for years and its medicinal uses date as far back as the writings of Hippocrates, Dioscorides, and Pliny the Elder. Elderberries have been used for making wine, preserves, winter cordials, and as flavouring for other foods and wines. They have high antioxidant content and are proven to help boost the immune system. Elderberries are used in dietary supplements and natural health products.
How does Sambucol work?
Elderberries are rich in phytochemicals called flavonoids. Among all other fruits and berries, elderberries are the richest most concentrated source of anthocyanins--a class of flavonoids that perform as powerful antioxidants working to maintain the immune system and protect the body. Anthocyanins can be found in the purple pigment of black elderberries. Sambucol products are made specially to retain the goodness of the black elderberry and help to maintain the body's immune system.
Does Sambucol contain artificial sweeteners, flavours, or colouring?
No. All Sambucol products are free of artificial sweeteners and flavours. Sambucol Sugar Free however does contain sorbitol. These products to not contain any artificial colouring either. The colour of the product is caused by the elderberry extract.
Is it free of dairy products?
All Sambucol products are free of dairy ingredients.
I'm allergic to nuts...does it contain any?
None of the Sambucol products contain nuts or ingredients derived from nuts. Sambucol products do not use nuts during manufacture.
Is it safe for vegetarians?
The Sambucol Liquid range does not contain any ingredients of animal origin, and is safe for vegetarian use. Keep in mind, however, that the shell of the Sambucol Capsules are made from gelatine (bovine origin) and are not suitable for vegetarians.
How should I store it?
Sambucol products should be stored in a cool, dark place away from heat and direct sunlight.