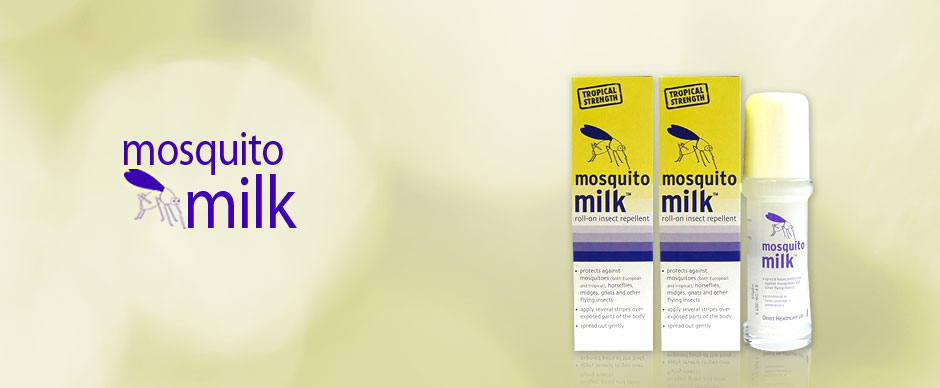 How does Mosquito Milk work?
Mosquito Milk is a highly effective insect repellent formula that deters all biting insects like mosquitoes, biting flies, deer flies, black flies, sand flies and the Scottish midge. Its formula contains extracts of natural plant oils like geranium, which is a plant that is known for its ability to prevent insects. These plant extracts are combined with a 20% DEET content (diethyl toluamide). DEET is the most effective active ingredient for repelling insects as studies suggest it is the smell that discourages insects from landing on the skin.
Despite the fact that Mosquito Milk contains a low DEET content, it is still tropical strength and is incredibly effective for repelling insects across the world. It has been trialled at the Institute of Tropical Medicine and has been concluded to be more effective compared to other repellents. It is therefore ideal for tropical climates and has provided only the best protection across Central and South America, Europe, Asia and Africa.
What makes Mosquito Milk so different to other repellents?
Mosquito Milk stands out from all other repellents due to its pleasant smell. Many other insect repellent sprays, lotions and balms have a strong and unpleasant smell that lingers on the skin and on your clothes. Thanks to the infusion of geranium oil extract in its formula, Mosquito Milk has a fresh scent that is not affected by perspiration.
Its application also differs from other repellents that need to be sprayed all over the skin or applied with the hands. Mosquito Milk provides a fuss-free, easy to apply roll-on repellent that only needs to be applied in a single stripe in certain areas to keep your whole body protected. There's no need to cover all exposed skin and there's no risk of inhaling chemicals. Mosquito Milk is easy to use, quickly dries and leaves you with the best protection so that you can enjoy your travels with no worries!