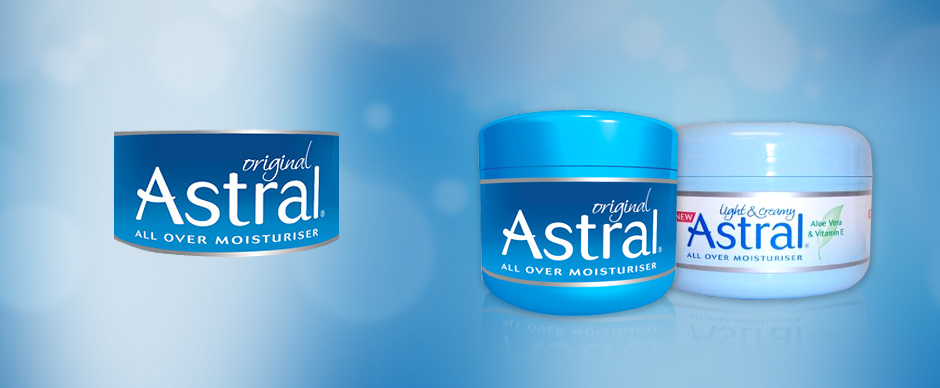 How do Astral creams benefit mature and changing skin?
The skin starts to lose its moisture and begins to look more wrinkled, rough, and dull as we get older. This is because the skin's natural moisture levels start to decrease with age. Using a good moisturiser is one of the best things you can do for your skin to help tackle signs of ageing and protect the skin as it changes.
Astral cream is richer and creamier than other body moisturisers and will effectively lock in the moisture, protecting the skin as it ages. It's gentler on the skin than most moisturising creams and does not contain any 'anti-ageing' ingredients which might cause irritation to the skin over time. Ingredients used are mild and gentle on the skin and have been proven to deeply moisturise and protect the skin.
Factors that age and change the skin:
Over-exposure to sunlight. Exposure to sunlight is the number one cause of wrinkles. Be sure to give your skin proper sunscreen protection and grab a pair of sunglasses and sun hat
Smoking. Smoking speeds up the ageing process, causes lines around the mouth, and a hollow-cheeked look.
Excessive alcohol consumption. Heavy drinking causes a constant dilation of the tiny blood vessels in the face and leads to a permanent network of reddish capillaries, especially around the nose and cheeks.
Constant & sudden temperature extremes. We daily escape from the hot, dry outdoor heat to the cool air-conditioned comfort of the office or home, and vice versa. The skin is able to adapt to these sudden changes, but it does take its toll.
Astral for ageing and other skincare needs
A recent survey conducted found that after using Astral Original for 28 days, most women prefer to continue using it rather than their usual daily moisturiser. This is because Astral cream is intensely moisturising. It can be used as an all-over moisturiser and not only meets the needs of mature skin but dry and sensitive skin as well.