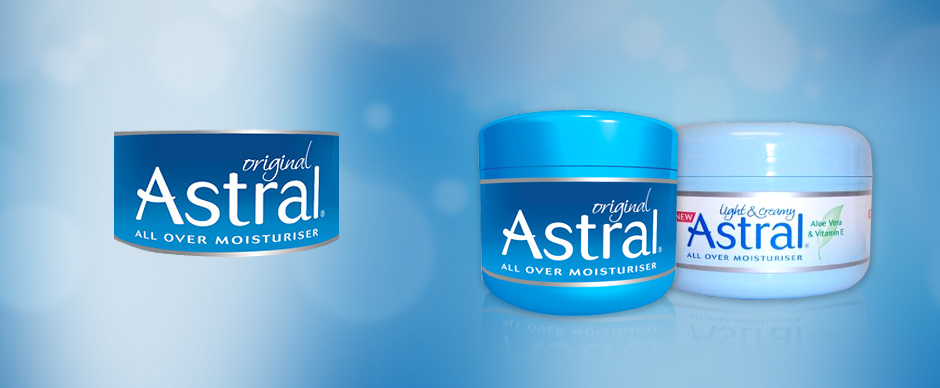 Choosing between Astral Original and Light & Creamy
When choosing between which Astral pot to pick up, we suggest that if you are looking for a product that will intensely moisturise very dry or sensitive skin, you choose Astral Original. Astral Original can be used either for 30+ skin as well as younger, while Astral Light & Creamy is suited to support the needs of more mature and ageing skin. Astral Light & Creamy also has a lighter formulation and milder fragrance without skimping on its moisturising qualities.
Let's take a closer look at each:
Astral original is a rich protective formulation that is simple to use and effective in its performance of improving the skin's appearance and texture. It does not contain any 'miracle' anti-ageing ingredients that may damage the skin over time. The two main ingredients used in Astral original are:
Lanolin: a rich, natural moisturiser which binds water to itself and locks in moisture while allowing the skin to breath freely. It is naturally hypoallergenic and is easily absorbed by the skin.
Glycerine: works by attracting water into the epidermis, thereby increasing moisture content. This ingredient is often referred to as the most natural moisturising factor for smoother, plumper looking skin.
Astral original uses these two primary ingredients to give just the right amount of moisture to mature and dry skin. This product can be used for ageing and mature skin as well as skin that is dry and sensitive to most creams and lotions.
Astral Light & Creamy is intensely hydrating, much like Astral Original, but it has a much lighter, milder fragrance and is enriched with Aloe Vera and Vitamin E to make it more soothing for your skin. The primary ingredients in it are:
Vitamin E: helps reduce the appearance of age spots, scars, and stretch marks. Vitamin E also helps to keep up the skin's natural moisture level.
Aloe Vera: moisturises and soothes the skin. It's famous for its intensely soothing properties and is perfect for sensitive skin. Aloe Vera can even help to improve the skin's tone and ability to stimulate cell renewal.
Astral Light & Creamy uses these primary ingredients to intensely soothe and hydrate the skin. The product is non-greasy and contains other natural extracts.
(Both Astral creams are dermatologically tested and have not been tested on animals).