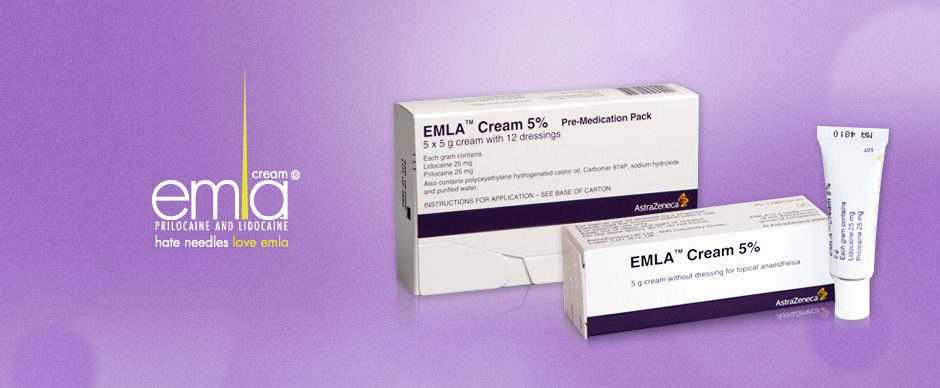 Are you looking to determine if Emla Cream is for you? Find out how long Emla Cream lasts, what it is used for and if there are any side effects in our FAQ.
What is Emla Cream used for?
Emla Cream is a local anaesthetic that can be applied to the skin to help suppress the pain of needle procedures. Many of us are anxious about having vaccinations because of the pain of the injection. You can apply Emla Cream at home, prior to a needle procedure. The anaesthetic effects can make it less distressing for you or your child when visiting a doctor.
Emla Cream has been successfully used a local anaesthetic in the UK since 1986. This product will help numb the pain of the needle during child immunisations, minor skin procedures, blood donation and travel vaccinations.
Who can use Emla Cream?
Babies (from full-term), children and adults can use Emla Cream.
Is it safe to use Emla Cream during pregnancy?
Women who are pregnant or breastfeeding are advised to talk to their pharmacist or doctor before using Emla Cream.
What are Emla Cream side effects?
Like all medicines, Emla Cream 5% can cause side effects in some people.
Common side effects (that affect more than 1 in 10 people) are redness, slight swelling, or temporary paleness of the place where the cream was used.
How long does Emla Cream last?
Adults can leave Emla Cream on the skin for 1-5 hours.
How much does Emla Cream cost?
We currently stock Emla Cream from £5.19.
Do I use a dressing with Emla Cream?
You should apply a waterproof dressing after applying Emla Cream to the skin. The only exception to this is when it is the application to delicate areas and sensitive skin.
My child is anaemic – can they use Emla Cream?
Talk to your pharmacist or doctor about whether Emla Cream is suitable for your child. Emla Cream is licensed for use in babies (from full-term), children and adults.
I take a lot of medicines - can I still use Emla Cream?
Emla Cream is not recommended if you take any medicines used to treat or prevent an irregular heartbeat such as mexiletine or amiodarone. It is also unsuitable if you take medication containing sulphonamides such as sulfmethoxazole. This list is not exhaustive. If you are unsure, please talk to your pharmacist or doctor.
I think I may be allergic to lidocaine, can I use Emla Cream?
You should not use Emla Cream 5% if you have had problems in the past when taking medicines containing lidocaine or prilocaine.
Can you use Emla Cream in 2 places at once?
Yes, in fact, it is recommended. Prior to a procedure, it is difficult to know exactly where the needle will be inserted. You should, therefore, apply the cream on two skin areas so as to have a 'reserve site' to inject into.
Can Emla Cream be kept in a fridge?
You can keep Emla Cream in the fridge, but the application to the skin at fridge temperature may feel somewhat unpleasant. You must also never freeze Emla Cream.
Can EMLA cream be used on skin areas affected by atopic dermatitis?
Yes, but with caution. The application time should be shortened to 15-30 minutes. This is due to faster absorption on patients afflicted by atopic dermatitis, even on skin areas without eczema.
Will be anaesthetic effect work if you apply Emla Cream to intact skin for less than 1 hour?
An application time of less than 1 hour creates an unreliable anaesthetic effect, whereby individual variations can be significant. This means you can never predict which patients will experience satisfactory anaesthesia after 40 minutes and in which patients the skin will not be numb. In patients with atopic dermatitis, however, 15-30 min is sufficient for a minor procedure. For curettage of molluscum contagiosum, 80-90% of patients will experience minimal pain after an Emla Cream application of 30 minutes.
How can I estimate the dose from the 30g Emla Cream tube?
1 g of Emla Cream administered from the 30 g aluminium tube corresponds to a length of the cream string of approximately 3.5 cm.
This article has been medically approved by Superintendent Pharmacist Shilpa Shailen Karia, MRPharmS. - GPhC Reg No: 2087328