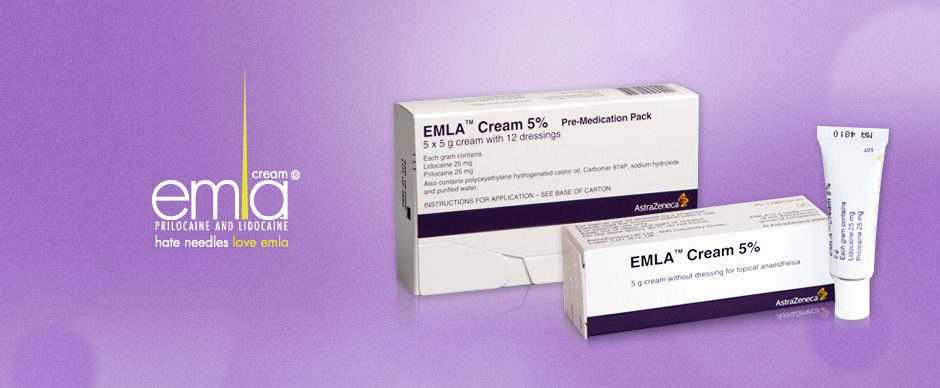 What is Emla Cream?
Emla Cream is a local anaesthetic that can be applied to the skin to help suppress the pain of needle procedures. Many of us are anxious about having vaccinations, mainly because of the pain of the injection. You can apply emla cream at home, prior to a needle involving the procedure, to reduce pain and so make it less distressing for you or your child when visiting a doctor. Emla cream is a local anaesthetic that has been successfully used in the UK since 1986. Emla Cream will help numb the pain of the needle during child immunisations, minor skin procedures, blood donation and travel vaccinations.
Specific Uses for Emla Cream
If the pain of having a vaccination makes you anxious, Emla cream can help. Emla cream is a local anaesthetic that has been successfully used in the UK since 1986. Emla cream causes numbness on an affected area of skin and means that needle procedures are pain-free. This can include:
Child immunisations
Minor skin procedures
Blood donation
Travel vaccinations.
Making childhood immunisations stress-free
Childhood vaccinations can be traumatic for both mum and baby. Despite your best efforts to soothe, and the nurse being as quick as she can, even the bravest of children can get very upset, resulting in a traumatic experience for everyone. Fortunately, there's Emla cream, a tried and tested way to numb the pain of needles. So no need to worry about your child's next immunisation. Just apply Emla cream 60 minutes before your child's next jab and see the difference.
Blood Donation and Testing
Of the more than 60 million people living in the UK, only 1.6 million actually donate blood every year. The National Blood Service is always looking for new donors to replenish its blood stocks, but the fear of needle procedures can put some people off. The anaesthetic effects of Emla Cream can work to soothe both body and mind before a blood donation and help ensure the procedure is anxiety-free.
Travel Vaccines
Travel vaccinations might not be the most exciting part of your holiday planning, but they are one of the most important. It is common to put off getting travel vaccinations, particularly for holiday-makers with a phobia of needles. Use Emla Cream before a travel vaccination to help dispel any fears of the procedure.
HPV Vaccine
Emla numbing cream can be applied to the skin 60 minutes prior to receiving the HPV vaccine to help numb the skin and suppress the pain of the needle. For more information about the HPV vaccine please visit the NHS website.