For 120 years Schwarzkopf has been a pioneer of hair, combining quality ingredients and the latest haircare technology to ensure maximum performance.
Introducing Schwarzkopf Oleo Intense, a permanent hair colour infused with oils for supreme care. With Fair Trade argan oil, Oleo Intense leaves hair soft and full of shine.
The Technology
Oil in, Ammonia Out.
The Oleo Intense oil infused formula works in two ways, to give you salon beautiful hair.
1) The oil in the formula boosts the penetration of the colour pigments inside the hair fibre giving you rich, long-lasting colour with up to 100% grey coverage.
2) The oil in the formula also cares for your hair while colouring, for healthy looking hair. The addition of the Fair Trade Argan Oil leaves your hair soft and full of shine.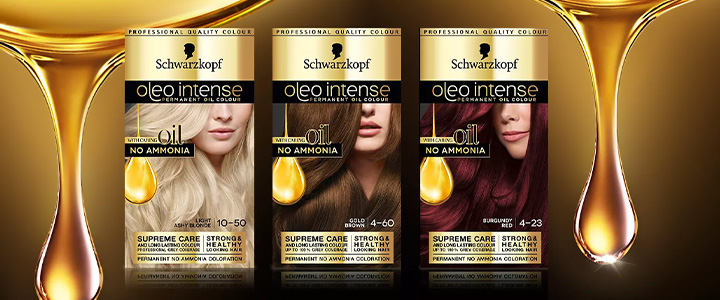 Schwarzkopf Oleo Intense is kind to your hair and developed sustainability. The gentle, ammonia free formula is perfect to blend away greys and will leave hair feeling soft and looking healthy with a natural finish. The sustainably sourced Fair Trade Argan Oil in the conditioner will give your hair extra nourishment, for those final touches.