How to use the LIVE Colour range for Men
The easy-to-use Schwarzkopf LIVE range is designed to help achieve statement hair with the minimum of fuss. It features professional quality at-home solutions to every colouring conundrum.
How to Apply
Do your prep:
• Always do an allergy test 48 hours before applying the dye
• Cover up with old and/or dark clothing
• Always wear gloves
• Get a timer ready
MIXING:
For permanent shades only
• Open developer bottle
• Squeeze colour cream into developer bottle
• Replace developer bottle cap and give it a good shake
• Twist the nozzle off and your ready to apply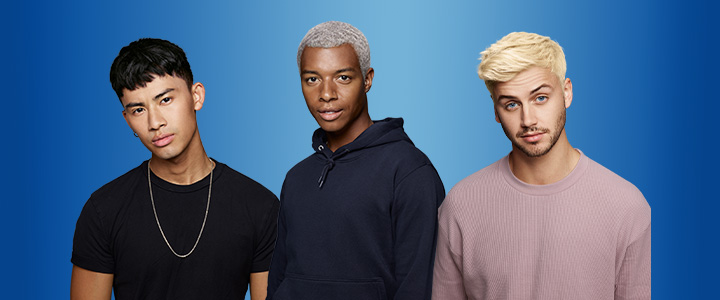 First Timers:
• Use the bottle nozzle to get a good amount of colour into your roots
• Work colour through the lengths and ends of your hair until evenly covered
• Wait for the colour to develop (check individual instruction leaflet for details)
• Rinse hair until water runs clear
• Condition with the Care Conditioner included for touchably soft hair
Need to touch up your roots or blend your colour?
• Use the nozzle of the bottle to part and section the hair to get right to the roots.
• ONLY apply colour to your roots at this stage.
• Keep enough colour in the bottle (about a third) for your ends.
• Now put your gloves back on and work the remaining mixture through your hair with your fingers.
• Rinse hair until water runs clear
And You're Done!