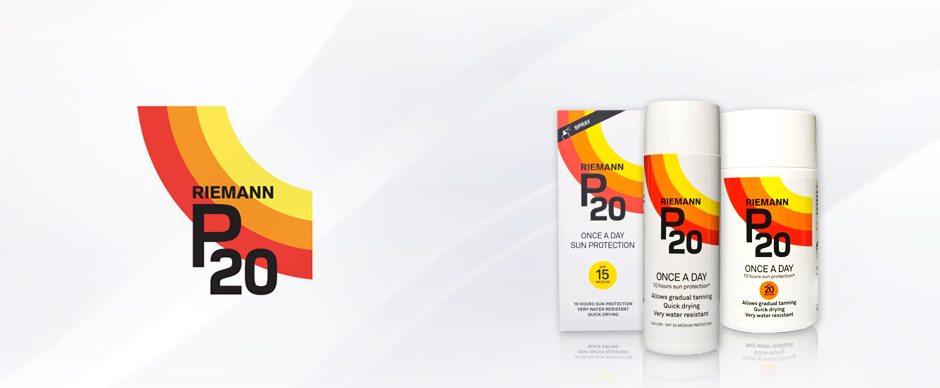 What is the Difference Between Riemann P10 & Riemann P20?
P10 has an SPF of 10, meaning it excludes 90% of the sun's burning rays. P20 has an SPF of 20, meaning it excludes 95%. A sun protection product with an SPF of 50 excludes 98%, demonstrating that the additional protection of higher SPF is marginal.
Does Riemann P20 Contain Both UVA & UVB Filters?
Yes, Riemann P20 contains both UVA and UVB Protection/filters.
Is Riemann P20 Still Effective After a Shower?
Riemann P20 is still effective after a shower providing you have not used soap, a loofah or towelled vigorously.
Is Riemann P20 Safe for Children?
P20 is suitable sunscreens for children. Remember that babies and small children should not be exposed to direct sunlight.
Should Riemann P20 be Re-applied After Swimming?
There is no need for P20 to be re-applied after swimming unless you have towelled vigorously.
How Should I Apply Riemann P20?
Apply in the shade, 15 minutes before you go into the sun, to clean and dry skin. Apply generously (2mg per cm2) paying particular attention to the vulnerable parts of the body such as your nose, ears, scalp, shoulders, chest and feet.
Can I Use Riemann P20 Under Make-up & Moisturising Crème?
Yes. Allow 15 minutes after applying before using make- up and crème as per your usual routine.
Can I use Riemann P20 if I am Pregnant?
All ingredients in both products have been approved as cosmetic ingredients and contain no preservatives, colourants and perfume, making them safe to use on human skin, even when you are pregnant.
Washing Instructions
Many sun protection products can stain fabrics, and this also applies to P20. However, we have found that by following the washing instructions outlined below, these stains can be removed.
Treat the stains with a commercial stain remover (we recommend Vanish Oxi Action) and wash the fabric with an ordinary detergent. Follow the instructions closely for both products as well as the washing instructions for the fabric itself. Repeat the treatment if necessary. Avoid any use of chlorine as this may worsen the stains.
To achieve the best results, the fabric should be treated as soon as possible after staining occurs.