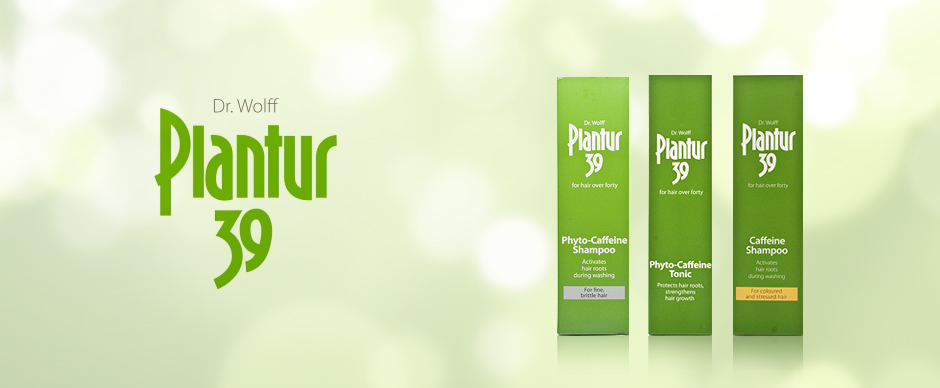 When should I start using Plantur 39 Shampoo?
Plantur 39 should be used no later than from the onset of the menopause in order to gain optimum benefits for your hair. Generally, it can also be used in younger years, especially at times when your metabolism may be under a lot of stress like reduction diets or other stressful situations. These factors can cause stress and strain to the hair roots in women under the age of 40, but Plantur 39's phyto-caffeine complex strengthens energy supply to the hair root, meaning it can be used in different situations.
What are the Key Ingredients in Plantur 39 Products?
All Plantur 39 products contain a highly active caffeine complex that penetrates the hair follicles and provides them with sufficient growth energy. Different products contain different active ingredients depending on their intensity and application:
Caffeine Shampoo – contain phytoflavones from white tea that make up the caffeine complex.
Caffeine Tonic – also contains niacin (vitamin B3), zinc salts and soy extracts.
Caffeine Hair Treatment – also contains a pro-vitamin B5 hydropolymer complex.
Outside-Inside Treatment – supported by valuable ingredients from black cohosh and natural soy.
If Caffeine is the Main Ingredient, Could Drinking More Coffee Help to Prevent Hair Loss?
Caffeine is a well-known stimulant and a popular ingredient for hair loss treatment shampoos. However, caffeine works best when it directly applied to the scalp in order to gain optimum amounts at the roots. Since coffee is orally digested, it is distributed throughout the body, meaning that only a very small amount would reach the scalp and hair roots. Scientists suggest that for the caffeine in coffee to have any effect on your hair growth, you would need to drink as much as 60 cups a day!
How Long After Using Plantur 39 Will I begin to Notice Results?
It obviously varies person-to-person with how long it can take to gain noticeable results as it depends on the strength of hair loss you are experiencing. Visible effects may not be immediate as it takes a certain time for the hair roots to regenerate. Strong hair loss should begin to noticeably decrease after a period of 3-4 months.
Who Should be Using Structural Hair Treatment?
Plantur 39's Structural Hair Treatment is specially designed for weak, thin and brittle hair as it is formulated to be light on the hair and not weigh it down.
Do you Need to Use Plantur 39 Shampoo Every Day?
As the caffeine within Plantur 39 remains detectable for 24 hours, it is recommended to use Plantur 39 daily. Regular application will activate the hair roots consistently and provide sustained protection against testosterone in order to maintain healthy hair growth. If you are not used to washing your hair every day, you should consider using their Caffeine Tonic on your wash-free days to provide your roots with sufficient growth energy.
Are the Levels of Caffeine Used Safely?
The quantity of caffeine is carefully balanced in Plantur 39's formula to provide sufficient testosterone protection. They are completely safe and can even be used by people who are sensitive to caffeine.