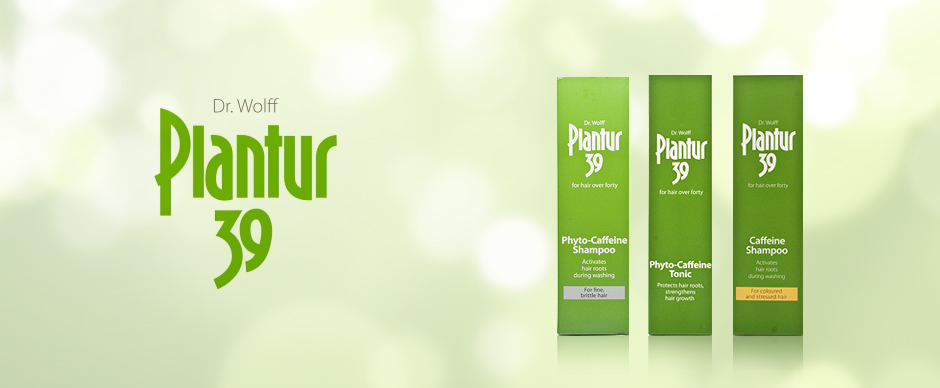 How does Plantur 39 work?
Plantur 39 shampoos, tonics and treatments are all specially formulated for hair over the age of 40. It is designed to be used by pre-menopausal women and should be used continuously during and after the menopause. Even though most women don't notice menopausal symptoms until their early-mid 50's, estrogen levels significantly drop and testosterone levels rapidly increase at the age of 40.
Up until this age, female hair roots are protected by a high share of estrogen (female hormone). As the estrogen declines, the hair roots are left with little protection against testosterone attacks. The influence of testosterone can result in a disruption of hair growth cause the roots to weaken prematurely. Testosterone also restricts the supply of energy, which makes hair production a stressful and exhausting process for the hair follicle. These hormonal changes can therefore lead to the gradual development of thin and brittle hair and premature hair loss.
Plantur 39 is specially formulated with caffeine, which helps to prevent the hormone-induced exhaustion of hair production and alternatively helps to stimulate hair growth. The Plantur 39 formula provides protection for the hair follicle and root against testosterone attacks. Their active caffeine ingredient comes from phytoflavones from the white tea plant and gets to work during hair washing. It penetrates right into the hair follicle in just 2 minutes and provides up to 24 hour protection at the root of the hair. Their shampoo for fine and brittle hair also contains softening hair conditioning agents that help the hair to retain volume, while their shampoo for colour-treated and stressed hair works to condition and repair the hair.