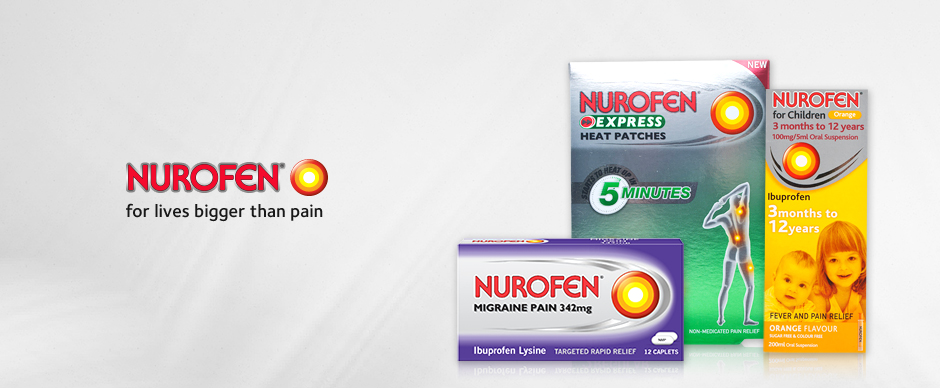 Nurofen Pain Relief Benefits
What is it?
Nurofen is considered the number one bestselling branded oral painkiller. In the 1960s 3 colleagues from Boots Pharmaceuticals developed ibuprofen, which is the active ingredient common to all Nurofen painkillers. In 1969 it was introduced as a prescription-only drug, but by 1983 it was available as an over-the-counter medication.
Nurofen has had success in the realm of pain relief for over 25 years. Products from this brand are clinically proven to provide relief from headaches, migraines, muscular pain, dental pain, period pain, cold and flu, children's pain, fever pain, and back pain. Additionally, Nurofen 200mg tablets are preferred in most cases over paracetamol tablets because they provide faster and longer relief from headaches. Nurofen Express 256 mg tablets and capsules contain sodium ibuprofen and work twice as fast as other standard ibuprofen tablets.
Active ingredients
The active ingredient used in Nurofen medications is Ibuprofen. Ibuprofen is a NSAID (Non-Steroidal Anti-Inflammatory Drug) it is used for its pain relieving and anti-inflammatory properties. Ibuprofen works at the site of the pain and blocks the production of chemicals, prostaglandis, which trigger pain and inflammation in the body's tissue. Salt formants of ibuprofen like sodium and lysine are modified versions of the NSAID ibuprofen. Because sodium and lysine are both more soluble than ibuprofen acid, they help the painkiller to dissolve in the body much quicker.
Ibuprofen is effective in blocking the production of pain in cases of headache, fever, neuralgia, and cold and flu symptoms. It is also effective for treating dental pains, rheumatic pain, period pain, muscular pain, backaches and any other type of pain that is followed by swelling.