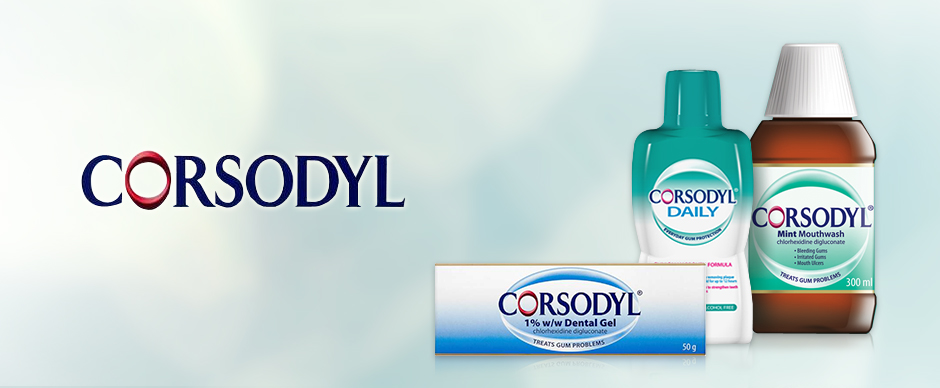 Protect your gums from disease
Healthy gums are a vital part of a healthy teeth and a healthy mouth. Individuals who have gum disease often face problems with bad breath and extreme pain in their gums. Corsodyl Daily products in the Corsodyl range help improve the upkeep of your gums and teeth so that you can keep them from disease and discomfort. The Daily range consists of products like mouthwashes, gum and tooth paste, expanding floss, and gentle tape, all of which are specially formulated and clinically proven to help prevent plaque build-up.
Here are some Corsodyl Daily products you can use to protect your gums from problems:
Corsodyl Daily Cool Mint Alcohol Free Mouthwash: This mouthwash is specially formulated to protect your gums and teeth from plaque and bacteria. It contains fluoride that strengthens and protects against cavities. This daily mouthwash gives you up to 12 hours of protection against bacteria, helps fight bad breath, protects against cavities, and is alcohol free.
Corsodyl Daily Gum and Toothpaste: When used in combination with regular brushing, this product will help your gums stay firm and tight, while locking out harmful plaque and bacteria. It works to fortify your teeth, reduced plaque effectively, and is antibacterial.
Corsodyl Daily Toothbrush soft: It is specifically designed to give your gums and teeth gentle yet thorough cleaning. This toothbrush is uniquely designed to clean the gum line and prevent the build-up of plaque. It adapts to delicate areas and is gentle on the gums.
Corsodyl Daily Expanding Floss: This floss contains compressed fibres which expand to help you do a better job of cleaning around your teeth. It is developed to be used as a part of your daily oral health routine and can be used along with other products in the Corsodyl Daily range for best results.
Corsodyl Daily Gentle Tape: Coated with smooth wax treatment which dissolves quickly to release fluoride from the fibres, this product moves easily between the teeth and is an essential part of a good oral regime. For best results, use it daily.
Other practical ways you can protect your gums from disease:
Brush your teeth at least twice a day for two minutes each time.
Floss daily.
Use an antibacterial mouthwash like Corsodyl Mouthwash Mint to protect your teeth from plaque and to protect the gums from gingivitis.
Quit smoking. Smoking increasing the risk of gum disease because it damages gum tissue and increase inflammation. If you smoke, a big step to preventing gum disease would be to quit.
Brush, floss, and use an antibacterial rinse to prevent gingivitis from becoming a recurring problem.