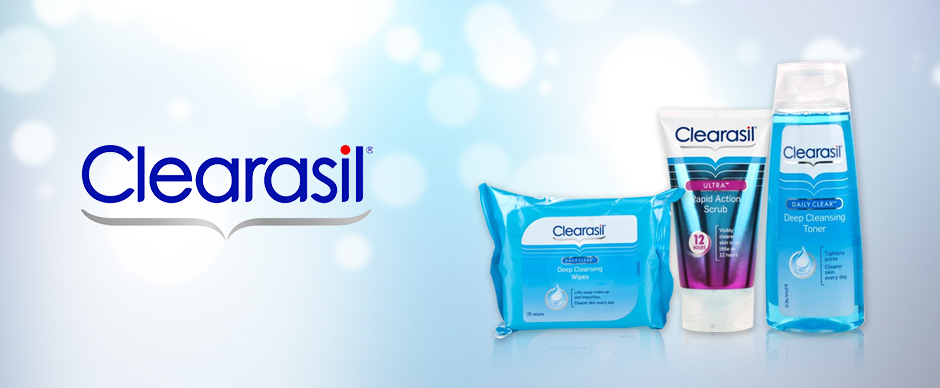 About Clearasil ingredients
Clearasil is a top-selling range of skincare products for rapid to slow acne treatment and products for overall acne protection and upkeep. The line was first started in 1940 and was specially created to help young people in the fight against acne. One of the main benefits of Clearasil product is that it is oil free. It does not contain any oils or derivatives which leave behind residue and make the skin greasy.
From everyday cleansing to rapid action treatments, Clearasil has become a well-known and widely used brand over the years.
Active ingredients
The active ingredients used benzoyl peroxide, sulphur & resorcinol, triclosan, and salicylic acid. The two primary active ingredients used are:
Benzoyl Peroxide is used in most acne treatments to help prevent acne breakout. If you have sensitive skin or skin that is easily irritated you should avoid using acne-fighting products that contain Benzoyl Peroxide.
Salicylic acid, the active ingredient used in all Clearasil treatments, helps fight spots and breakouts. Salicylic acid is accumulated in the skin and hair follicles, even after rinsing the skin, and works to clear present breakouts and prevent future ones. It can be found in most over-the-counter acne treatments in strengths up to 2%, however if you have dry skin you should look for products with salicylic acid strength of .5% or 1% instead of 2%.
To enhance your use of Clearasil products, follow these steps
Wash your face twice each day. Use Clearasil Facewash or soap because both will clean out the pores and protect the skin from outbreaks of pimples. You can even use Clearasil products as a body wash to help prevent outbreaks of pimples on the back and chest.
After washing with a Clearasil product, use Clearasil Skin Clearing Cream all over your face, or other area where you're pimple prone. Using this cream will not only soften the skin, but will also protect the pores from becoming clogged with bacteria which can cause future acne outbreaks.
Use Clearasil cleaning wipes while out to protect the pores from bacteria and impurities. You can use these wipes for removing makeup as well.