Pain free Covid-19 PCR Test Kit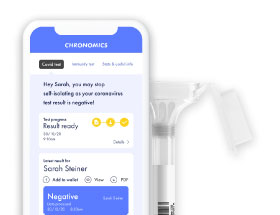 This UK government authorised and CE marked saliva testing kit can accurately test for COVID-19 without an invasive swab. Simply provide a saliva sample in the tube provided and post it back for your results.

By clicking the above link, you will be taken to the Chronomics website where you can complete your secure online purchase of the Covid-19 test kit.
---
COVID-19 testing kit FAQ's

Is this an at-home test or is the analysis done in the lab?

With the Chronomics CE marked saliva test, the collection of the sample can be done anywhere - at home, work or in the clinic. Other tests (such as nasopharyngeal swabs) normally require a trained medical professional to administer correctly and are more invasive and painful.

What does this test show?

This test detects the presence of the virus that causes COVID-19, known as SARS-CoV-2, using an RT-PCR method. There are four possible outcomes from the testing:

Positive - testing positive for the virus means that the sample provided contains SARS-CoV-2 viral RNA. This result could be returned even in the absence of symptoms.

Negative - this result means that the sample provided does not contain detectable levels of SARS-CoV-2 viral RNA. However, you could have been previously infected by the virus and you could be infected at a future date. Inconclusive - this result means that the test results did not meet the requirements to be reported as a positive detection of SARS-CoV-2 viral RNA in the sample, and should be treated clinically as Not Detected. However, this also means that there was partial detection of a signal from SARS-CoV-2 that warrants notification under duty of care for further investigation. Re-testing in these cases is recommended.

Failed - this result means it was not possible to accurately process your test in the laboratory. This is normally due to an incorrect saliva sample being provided (ie not providing enough spit, not mixing with the stabilizing fluid or eating/drinking before the test). We recommended taking another test as soon as possible.

If the test is so great, why isn't the NHS using it already?

Our test is currently pending approval for use in the NHS. Meanwhile we want to offer our spare lab capacity to help others.

Why is Chronomics now doing COVID-19 testing?

Our day job is analysing epigenetic data from saliva samples to give actionable health insights. However, we're currently diverting part of our saliva testing resources to help in the fight against the COVID-19 pandemic.

Are you CE marked and FDA approved?

Chronomics test for Covid-19 is fully CE marked. They are currently in the process of receiving FDA Emergency Use Authorization (EUA).

Where can I find instructions and test results?

You can find this information below for the different components of the Chronomics COVID-19 testing kit (including the laboratory reagents and protocols):




Did you know... The Chronomics saliva testing kit is one of the world's first saliva tests for the identification of COVID-19 infection. This test uses the RT-PCR method and a protocol similar to the ones defined by the US Centre for Disease Control (CDC) and the World Health Organisation (WHO). It has been extensively validated globally for the detection of COVID-19.
Pain free PCR Test to Release Kit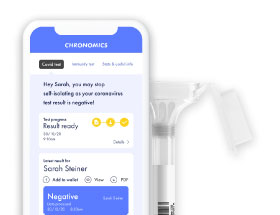 Reduce your isolation period when entering England from a country not on the travel corridor with a government-approved, at-home saliva test. No painful nose or throat swabs, simply spit in a tube.

By clicking the above link, you will be taken to the Chronomics website where you can complete your secure online purchase of the Test To Release kit.
---
How does test to release work?
Before the end of your trip: Check whether the country you are returning from is on the government travel corridor list. If your country is not on the list, order a Chronomics test to release kit. You will receive a unique reference number that can be entered into your passenger locator form.
Day one: Arrive in England from a quarantine country. Go straight to the place you plan to self-isolate. Start self-isolating according to the UK government's instructions.
Day five: Your Chronomics kit will arrive in the post at your self-isolate address. Complete the kit and return it via a royal mail priority post box the same day.
Day seven to eight: Get your results. If negative, you are to end self-isolation.
Tip: Order before flying and reduce the time you must spend in quarantine when landing in the UK.