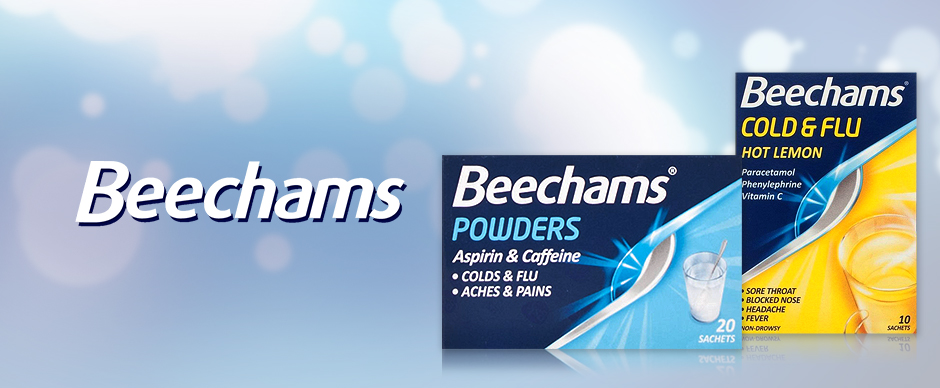 Many of the symptoms of flu are similar to those of a common cold. Viruses cause them both, but flu affects the lungs much more than a cold does. Generally the symptoms of a cold tend to develop over a couple of days whereas the symptoms of flu have a more abrupt onset, often developing over a matter of hours. Flu doesn't usually give you the same congested heavy-headed feeling that a cold does. Beechams is here however to relieve your symptoms, whether you are suffering from a cold or the flu.
Use this table below to help spot the differences:
Cold Symptoms:
Mild fever, slow onset.
High temperature 37–38.3¢ªC /98.6–101¢ªF
Sore throat / pain when swallowing.
Mild earache.
Tiredness.
Coughing.
Sneezing.
Runny or blocked nose.
Headache.
Flu Symptoms:
Fever, abrupt onset.
High temperature 38-40¢ªC / 100-104¢ªF
Sweating and feeling feverish.
General muscle aches and pains.
A feeling of general tiredness.
Dry, chesty cough.
Sneezing.
Runny or blocked nose.
Difficulty sleeping.
What can help treat your symptoms?
Drink plenty of fluids. Water is best but orange juice and others high in vitamin C are also a good choice.
Steam inhalation can ease your congestion. Sit with a towel over your head over a bowl of water. Close your eyes and breathe in deeply.
Paracetamol and Ibuprofen-based products can help relieve pain and lower fever.
Decongestants such as phenylephrine work by reducing the swelling in the passageways of your nose and help to ease breathing.
Cough medicines to relieve dry or chesty coughs.
Try to rest and avoid strenuous activity.
Night time treatments can also help to relieve your cold and flu symptoms to help you get a good night's sleep.
Talk to your pharmacist about the range of over the counter products available to relieve the symptoms of cold and flu.
Ask you pharmacist about cold and flu relief this winter.