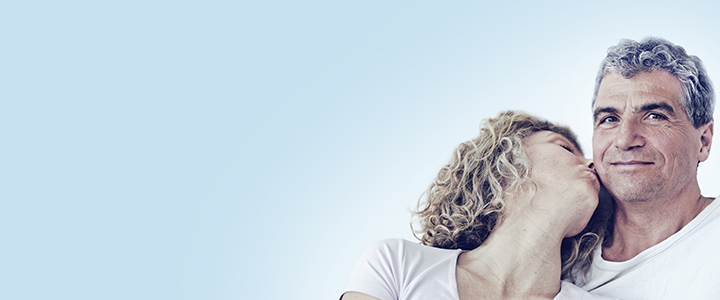 How does VIAGRA Connect work?
VIAGRA Connect works by relaxing the blood vessels of the penis, so more blood can flow into it causing an erection when you are sexually aroused. After sex, your erection will go away as it would normally.
VIAGRA Connect can help you:
Get an erection hard enough for sex
Maintain an erection during sex
VIAGRA Connect will NOT help you:
If you do not have symptoms of erectile dysfunction (ED)
Get an instant erection
Get an erection that lasts all night
Increase your sexual desire, improve your performance or make you last longer
VIAGRA Connect normally starts to work in 30 to 60 minutes, so you are ready when you need to be.
What happens to my body when taking VIAGRA Connect?
VIAGRA Connect works by relaxing the blood vessels that bring blood into the penis when a man is sexually excited. For men with ED this allows more blood to flow into the penis to maintain firmer erections. After sexual activity, the erection will go away as normal.
VIAGRA Connect is quickly absorbed and takes between 30 to 60 minutes to work. When taken with a high fat meal, for example burger and chips, the rate of absorption is reduced and VIAGRA Connect will take longer to work.
What are the potential side effects of VIAGRA Connect
The most common side effect (1 in 10 men may experience it) associated with VIAGRA Connect is a headache.
For the other less common side effects (between 1 in 10 and 1 in 100 men may experience them) related to VIAGRA Connect, please read the Patient Information Leaflet, available from the electronic Medicines Compendium (eMC).
You can report any side effects to the national reporting system in the United Kingdom at the Yellow Card Scheme website.