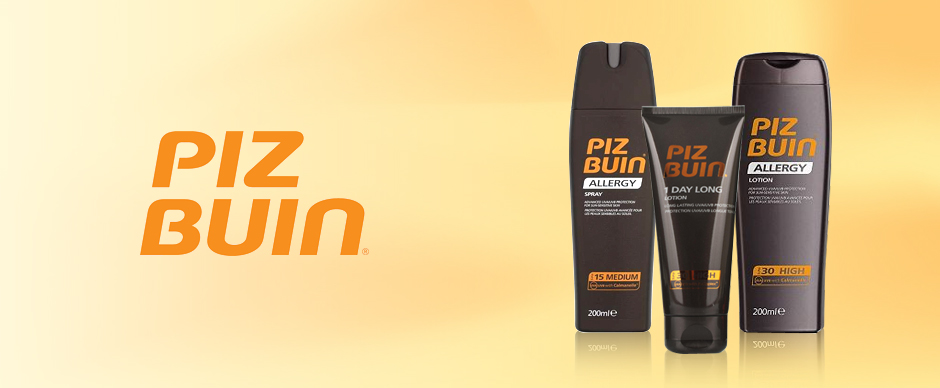 The best Piz Buin product for you
Sometimes choosing the right sun protection can be a tricky business; there's so much choice around that it's difficult to try and work out what's best for your skin and your individual needs. Thankfully, Piz Buin's range has something for everyone as their products range from low to very high protections in a variety of formats so that you can find what works best on your skin no problem. They all offer optimum protection from UVA and UVB sun rays and enable you to enjoy the sun while taking care of your skin too.
In Sun:
The Piz Buin In Sun range is their classic line ranging from medium to high protection that is specially designed to provide you with the best protection while allowing your skin to feel its best. Each In Sun product contains advanced sun protection filters that are combined with powerful antioxidants that help to prevent sun induced premature skin ageing. Whether you prefer lotions or sprays, each product is designed to feel light and non-greasy in order to quickly absorb and leave the skin feeling fully moisturised. You can also look after the delicate skin on your face and lips with their Radiant Face Cream and Sun Lipstick.
Tan & Protect:
If you really want to make the most of the sun while you're away and build-up the best tan possible, then Tan & Protect from Piz Buin is ideal for you. Each product combines advanced UVA and UVB filters with Melitane that works to increase the production of the skin's tanning pigment by up to 70%. Their sprays, oils and lotions will allow you to achieve a gorgeous bronzed colour safely and effectively, while nourishing the skin and leaving it looking healthy and sun-kissed. Enhance your natural tan without compromising on protection with Piz Buin's Tan & Protect ranging from low to medium protection.
Allergy:
Sun-sensitive skin can often be left red, prickly and blotchy in even the most minimal UV exposure. Piz Buin however wants everyone to enjoy the sun safely and has therefore created their Allergy range to ensure that absolutely all skin types are catered for. Each product has been specially developed under dermatological control and contains advanced UVA and UVB filters and Calmanelle that reinforces skin cell defence against UV rays and increases tolerance to the sun.
After Sun:
After a long day in the sun, your skin may be feeling a little dry and tight, especially after being in and out of water and in the sun all day. Your skin can also become slightly burnt without the right amount of protection, which is why after sun is so important. It soothes and calms the skin and provides ultimate hydration and moisture to ensure your skin's natural moisture balance is restored. Enriched with Aloe Vera and vitamin E, Piz Buin's After Sun collection helps to take care of your skin, protect against skin ageing and prolong your tan.