WHAT IS THE 2-SHADE RULE?
The 2 Shade Rule helps you choose a hair colour shade that will give you the best results. Extra bonus - your results will be closer to what you see on the box.
You start by determining what your natural hair colour is. That means your virgin hair colour. If you already colour your hair, you should look at your regrowth.
If you want to go lighter: choose a shade no more than 2 shades lighter/ above your current shade. Note: If in doubt between 2 shades, always choose the lighter one.
• Pro Tip – Play by the numbers!!! Hair colour shades go from 1-10 with 1 being the darkest. So first determine what number your natural hair colour is. If, for example you are a medium brown (5) the lightest you should go is a 7 (Dark Blonde). Remember: You can only lighten your hair using permanent hair dye over natural (virgin) hair. Semi-permanents will not lighten your hair and not even permanent dye will lighten previously coloured hair!
If you want to go darker: Start with 1 shade darker the first time to get a sense of what darker hair will look like on you. It can sometimes be a bit surprising! Note: Hair colourants will not lighten previously coloured hair so best to go darker gradually.
• Pro Tip: It is easier to go from light to dark, rather than the other way around. If you are undecided between 2 shades (whether you want to go dark or light), choose the lighter shade. You can always go to a darker shade next time!
WHY DO I NEED TO FOLLOW IT?
Better to follow the rule and be safe than sorry! If you do not follow it, you will not receive the shade results the hair dye is designed to deliver. If you try to go past that level of lightness that is beyond 2 shades, then you can end up bringing out unwanted contributing pigments that are naturally present in your hair. Please see the next section below for more detail on this! If you go more than 2 shades darker and don't like the result, you will end up having to live with it since using another hair colour will not lighten it.
WHAT IF I HAVE DARK HAIR AND WANT TO GO BLONDER?
This is where the 2 Shade Rule is most important! In the chart below, you can see the darker your hair, the more warm contributing pigments are present. Going blonde on a dark base is a bit more complicated than just colouring your hair. If you try to go beyond 2 levels lighter, then you take a chance of ending up with orange, or brassy hair.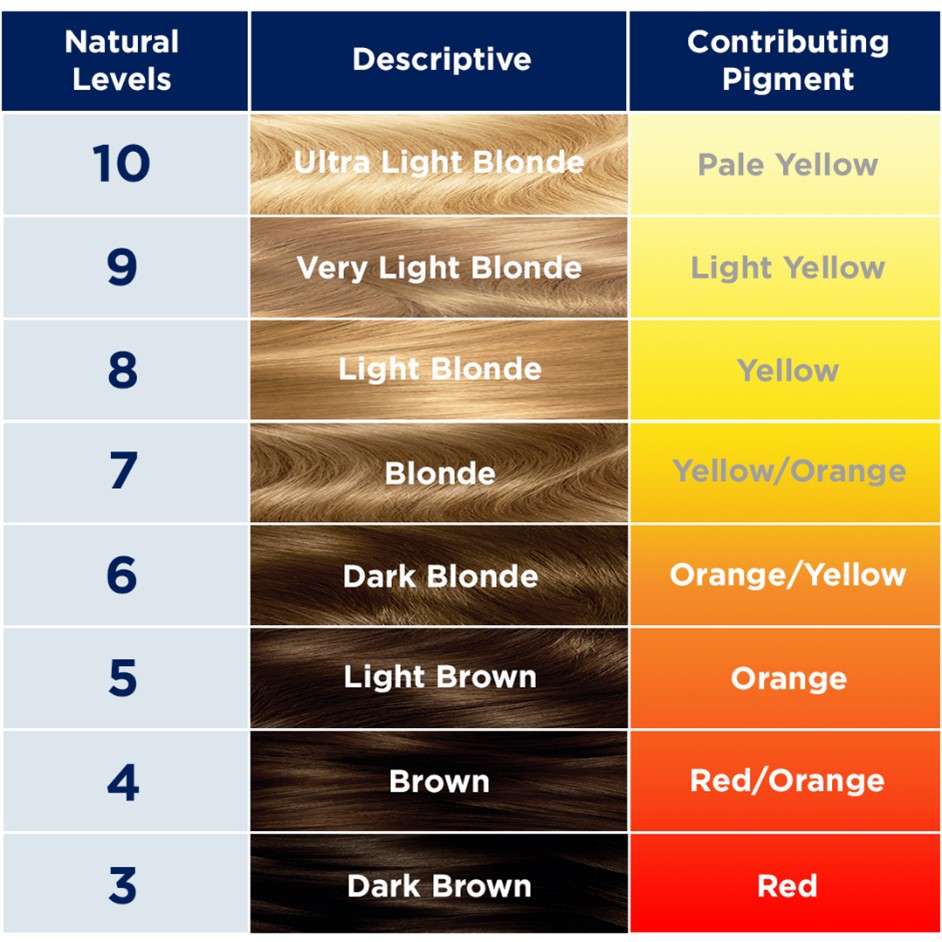 Contributing pigments can be corrected with a semi-permanent gloss, which is where using Natural Instincts can come in handy to tone down brassy brunettes or blondes.