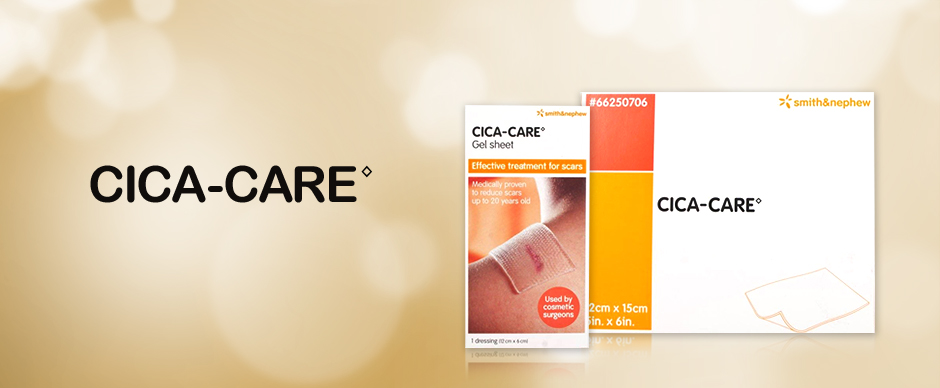 Cica-Care is a self-adhesive gel sheet that is medically proven to be up to 90% effective in the improvement of red, dark or raised scars. It has already been used by the medical profession to treat over one million people worldwide.
Cica-Care is durable, comfortable and re-usable, ideal for day and night use. It is also safe to use on children and adults making it suitable for the whole family. Cica-Care can even be used on scars up to 20 years old.
Within 2-4 months, scars you thought were permanent can be treated and their appearance improved – permanently.
Cica-Care offers many advantages for people who, maybe like yourself, have red, dark or raised scars. It not only softens, flattens and fades these types of scars but also relieves itching and discomfort.
It is easy and comfortable to use and incurs little of the pain, inconvenience and cost of other scar treatments like laser surgery, surgery or steroid injections.
There's no need for tapes or bandages either and it's medically proven safe and effective for use on children as well as adults.
Which is why Cica-Care has been widely used by the medical profession for over ten years. And now it is available for you to purchase from your local pharmacist.
How Cica-Care Works
Cica-Care is an advanced form of silicone contained within a gel sheet that provides a comfortable, convenient treatment for red, dark or raised scars. It has been medically proven to work effectively in up to 90% of cases.
Research into how Cica-Care works suggests that it occludes the skin to hydrate the scar area. This means moisture is locked into the skin around the scar, reducing the blood supply and deposit of collagen, which is what the body uses to rebuild deeply wounded skin.
The effect of this is to make the scar tissue paler in colour, closer to the natural colour of your skin.
When to use Cica-Care
Cica-Care is designed to soften, flatten and fade red, dark or raised scars that have resulted from surgery, accidents, cuts and burns and injury to any part of the body, including the face. Cica-Care can also relieve the itching and discomfort associated with red and raised scars.
However, some injuries leave white scars that naturally fade away after time and Cica-Care is not suitable for use on these. Cica-Care must not be used on open or infected wounds or over scabs or stitches.
Do not use ointments or creams under the gel sheet. In some cases a rash may appear, this has been attributed to either poor hygiene or the product being applied too tightly. If a rash appears reduce treatment time, should it persist please consult your doctor. Do not use skin currently affected by acne.
How to use Cica-Care
Take a look at the following 8 simple steps to effective treatment, and see just how easy it is to gently soften, flatten and fade red, dark or raised scars with Cica-Care.

Step 1 - Wash your hands before use and then gently clean the scar and surrounding skin. Thoroughly dry the area before applying Cica-Care.

Step 2- Peel the lid from the tray containing Cica-Care and remove the gel sheet.
Step 3 - With a pair of scissors, cut the sheet to the size of the scar - allowing a little overlap all the way round. Store the remaining gel sheet in a dry place, like the tray the gel came in.
Step 4 - Remove the printed plastic sheet to reveal the adhesive.
Step 5 - Apply Cica-Care, adhesive side down, to the scarred area without stretching the strip. If your scar is in an awkward position you may wish to use a light bandage or tape to keep Cica-Care in position. Do not hold the gel sheet too tightly to the skin as this may cause irritation of the scar and surrounding area.
Step 6 - Cica-Care should be applied to the scar for 4 hours on the first two days of use. The application time should then be increased by 2 hours a day to enable your skin to get used to the gel strip. See treatment time and the Cica-Care user diary for more details.
Step 7 - Clean Cica-Care twice daily with a mild soap. Once you've cleaned the gel strip, rinse it well.
Step 8 - Dry the Cica-Care strip with a non-fluffy towel before re-applying. Ensure the scar and surrounding area is washed too.
Treatment Time
Treatment times vary from person to person and depends on the nature of the scarring. However, on average and if used correctly you can expect best results after 2-4 months.
At first, Cica-Care* should be applied to the scar for 2 hours a day, building up by 2 hours a day to allow your skin to get used to the gel strip.
Cica-Care can be washed and re-used. Each strip lasts between 14 and 28 days, making it a very cost-effective scar treatment.