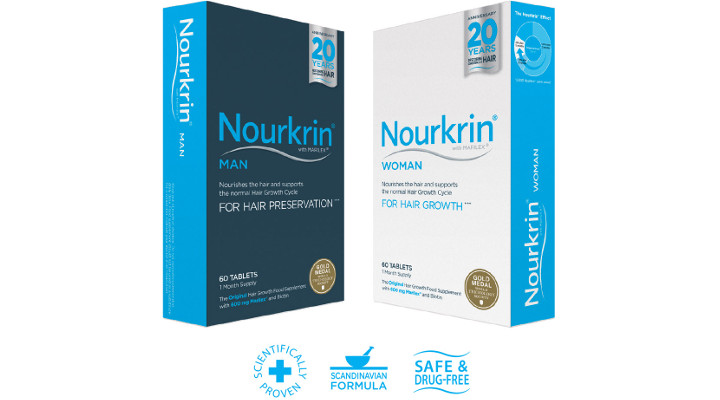 Why is Nourkrin® unique?
Nourkrin® has more than 20 years of proven brand history in the UK and other international markets, and has consistently provided the original efficacy that consumers trust and rely upon. Nourkrin® is the only product worldwide containing Marilex® (which has a unique and protected composition structure) and consumers should therefore beware of imitation products that claim to deliver similar effects with so-called 'marine proteins' – as these are not the original scientifically-proven Marilex®.
What is Marilex®?
Marilex® sets Nourkrin® apart from other products claiming to contain similar ingredients, as it is a proprietary ingredient based on exclusive intellectual property rights unique to Pharma Medico. Marilex® (fractionated fish extract with specific lectican proteoglycans) is made with the highest quality raw materials using an exclusive, protected extraction technology, and is accepted by health authorities on all continents of the globe including the FDA and European Food Safety Authority. Each Nourkrin® tablet contains the precise amount of Marilex® (300 mg) which is the exact quantity that has been used in the clinical studies. The other ingredients further influence the Hair Growth Cycle, and Nourkrin® is therefore not just a simple multivitamin, but an effective, scientifically-proven trichological product.
Is Nourkrin® safe to use?
Yes, Nourkrin® is completely safe, as it is 100% drug-free.
Does Nourkrin® interfere with any medication?
No, there are no known or registered instances of interference as Nourkrin® is naturally based. However if you are on medication it is always advisable to check with your doctor before commencing with any supplement programme.
Are there any side effects from using Nourkrin®?
No, Nourkrin® is entirely based on drug-free ingredients which are evaluated as safe by the Food and Drug authorities, and there have been no known side effects in the 20+ years it has been available.
Why is Nourkrin® a 6 month programme?
This is due to the prolonged nature of the Hair Growth Cycle. At any point in time, some hairs are in the Anagen (growth) phase, while others are in the Telogen (resting) phase. Therefore 6 months is the minimum period of time recommended in order for the many individual follicles to receive proper nutrition in relation to their individual cycles.
How long does it take before I start to notice a difference in my hair?
Most Nourkrin® users start to see a difference after 3 months of proper use according to the recommended daily intake.
Can I use Nourkrin® for longer than 6 months?
Yes, Nourkrin® is ideal for long-term treatment after the desired results have been achieved.
Will taking more than the recommended dosage increase the speed or quality of my hair growth?
No, each Nourkrin® tablet contains the precise strength of active ingredients that have been used in the clinical studies. It has been demonstrated in clinical studies that intake of more than the recommended daily dosage provides absolutely no added benefit.
Will I experience growth of body hair?
No. Nourkrin® contains specific ingredients that target only the hair follicles on the head.
Is Nourkrin® suitable for everyone?
Nourkrin® is suitable for everyone except those with allergies to fish and shellfish, as Marilex® is a marine-derived extract.
Is Nourkrin® suitable for coeliacs or those on a gluten-free diet?
Yes, Nourkrin® is free from gluten and therefore suitable for coeliacs.
Is Nourkrin® WOMAN the same as the previous 'Nourkrin® Extra Strength' product?
Yes, Nourkrin® WOMAN is the same great product as the previous Nourkrin® Extra Strength. It was re-named to better reflect its users, who continue to enjoy the product and its benefits.