Breakfast
Energy Boosting Porridge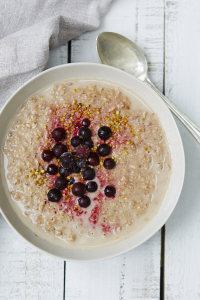 60g oats
1 ¾ cups water
1 tbsp Bioglan Superfoods Energy Boost
1 tbsp almond butter
1 tbsp Bioglan Superfoods Coconut Oil
1 tsp cinnamon
Syrup to taste
Frozen berries and bee pollen to garnish
In a pan put the oats and 1 cup water on a medium heat for about 30 seconds. Add the Bioglan Energy Boost and stir in the rest of the water and add the coconut oil, almond butter, cinnamon and stir until it's your desired consistency. This will be about 1-2 minutes.
To serve add some syrup to taste and garnish with frozen or fresh berries and bee pollen.
Berry Oats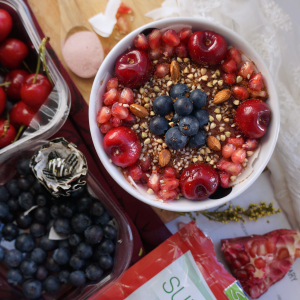 1/3 cup oats
1 cup water or preferred milk
1 small ripe banana
2 tsp Bioglan Superfoods Supergreens Berry Burst
Toppings: a selection of cherries, pomegranate seeds, blueberries, almonds, buckwheat, and Bioglan Superfoods Chia + Flax
Preferred sweetener (maple syrup, coconut sugar, honey, agave etc)
Add the oats, water/ milk and banana to a saucepan. Bring to the boil then stir continuously for 1 minute until the banana is mashed in and the oats are cooked. Stir in the Bioglan Berry Superfoods powder and serve. Top with desired toppings and your choice of sweetener, if desired.
Smoothies
Green Milkshake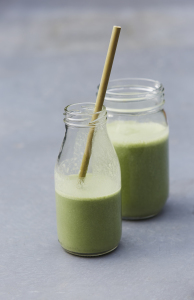 1 banana
1 tsp Bioglan Superfoods Green Boost powder
1 tbsp cashew or white almond butter
220ml almond milk
3 cubes ice
Put all ingredients into a blender and blend until smooth. Serve straight away.
Banana Neapolitan Ice Cream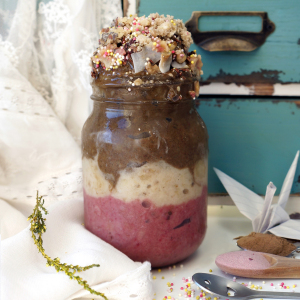 4 bananas
Splash of milk (regular/ almond / soy)
1-2 tsp Bioglan Superfoods Cacao Boost Supergreens
1-2 tsp Bioglan Superfoods Berry Burst Supergreens
Desired toppings
Peel and slice the bananas and place in the freezer for a few hours. Place in a blender (or food processor) along with a splash of milk and blitz until an ice cream consistency is achieved. For the three flavours, separate into three and mix 1-2 tsp Berry Burst Supergreens powder into one third, 1-2 tsp Cacao Boost Supergreens powder into another and leave the remaining as is. (Alternatively, if you just want the one flavour 'nice cream', add the preferred Supergreens powder in before you blend the bananas). Layer up and top with preferred toppings (cacao nibs, honey, shredded, coconut, sprinkles etc).
Desserts
Choco-Berry Crumbles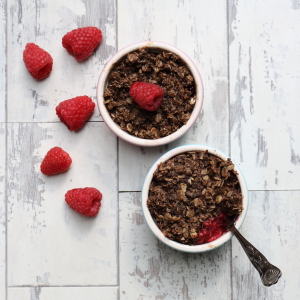 6 tablespoons oats
1 tablespoon Bioglan Superfoods Coconut Oil
2 teaspoons rice syrup
1 teaspoon almond milk
1 tablespoon Bioglan Superfoods Cacao powder
1⁄2 a cup of mixed berries
Begin by pre‐heating your oven to 180C.
Chop your berries transfer to two small ramekins! Next, simply mix your oats, coconut oil, rice syrup, and cacao powder in a separate bowl, until combined and sticky! Layer this mix over the top of your berry filling, and place the ramekins in the oven for 7‐10 minutes, until the top is crispy. Enjoy!
Nutty Millionaire's Shortbread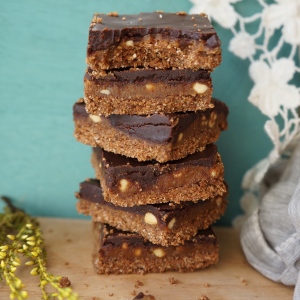 Base Layer:
3/4 cup ground pecan nuts
2 tbsp Bioglan Superfoods Cacao
2 tbsp Bioglan Superfoods Energy Boost
3 - 4 tbsp coconut/maple syrup
1 tbsp Bioglan Superfoods Coconut Oil, melted
Middle Layer:
1/2 cup crunchy peanut butter (or almond butter... or hazelnut butter... any nut butter)
3 tbsp coconut/maple syrup
1 tbsp Bioglan Superfoods Coconut Oil, melted
Topping:
1/4 cup Bioglan Superfoods Cacao powder
1/4 cup Bioglan Superfoods Coconut Oil, melted
3 tbsp coconut/maple syrup
For the base, combine all the base ingredients until they clump together (you can do this by hand). Press into a small lined square baking tray – the smaller the tray, the thicker the layers!
For the middle layer, mix the nut butter, syrup and oil until combined. Spread on top of base layer. Put in the fridge or freezer while you're making the next layer.
For the topping, mix the Cacao melted Coconut Oil and syrup together until you have a smooth, melted chocolate consistency. Pour on top of the middle layer and spread evenly with a spatula (bang the base of the tray on the work top a few times to make the top smooth and even).
Set in the fridge for 30 mins and you're good to go! Cut into squares and store in the fridge!
Snacks
Cacao and Fig Balls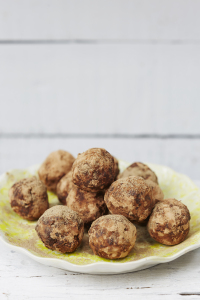 250g dried figs
3 tbsp Bioglan Superfoods Coconut Oil
30g almond flour
¼ tsp cinnamon
4 tbsp Supergreens Cacao Boost
Put all the ingredients into a food processor and blend until it becomes a sticky ball. Form into 10-12 balls the size of a ping pong ball and then dip into some more Supergreens Cacao Boost powder.
Put into the fridge for 1 hour to set. Leave in fridge until you want to eat them, they will keep in an air tight container for approximately 10 days.
Chocolate Strawberry Cups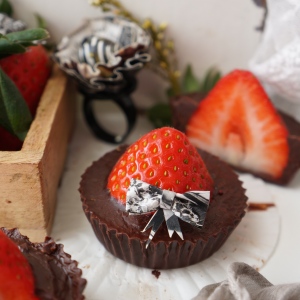 1/2 cup Bioglan Superfoods Cacao Powder
1/2 cup melted Bioglan Superfoods Coconut Oil
2 tbsp preferred liquid sweetener (honey, agave, maple syrup etc.)
Pinch sea salt, if desired
Fresh Strawberries
Combine the cacao, Bioglan coconut oil and sweetener, stirring until smooth. Line a baking tray with paper or silicone cupcake liners.
Pour the cases just under half way full with the chocolate.
Place a de-stemmed strawberry in the centre of each.
Place in the fridge to set.
Main Meals
Courgetti with Green Boost Brazilnut Pesto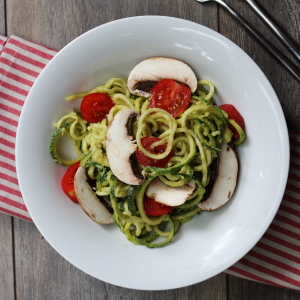 2 courgettes
1 cup brazil‐nuts
Juice of 2 lemons
2 handfuls of fresh basil
2 handfuls of rocket
2 tablespoons olive oil
Salt
1 tablespoon nutritional yeast
1 tablespoon Green Boost
Water
Put your courgettes through a spiralizer. Then, simply place all the ingredients for your pesto in a food processor and blend until smooth – adding water gradually until it reaches the desired consistency. Then serve and enjoy. Store any remaining pesto in an airtight container in the fridge for up to a week.
Superfood Salad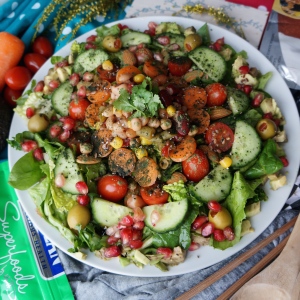 1 cup romaine lettuce, washed + torn
1 cup spinach, washed + torn
1 cup kale, washed + torn
1⁄2 cucumber, sliced
1 small carrot, sliced
small handful plum tomatoes, halved
sprinkle of pomegranate seeds
3 tbsp mixed beans/ legumes
2 tbsp sweet corn
a few olives, if desired
a few almonds
1 tbsp Bioglan Chia + Flax
1-2 tsp Bioglan Superfoods Green Boost
fresh herbs (parsley, mint, coriander etc.)
dressing
Toss together the greens. Add the cucumber, carrot, tomatoes, pomegranate seeds and olives if using. Top with the mixed beans/ legumes, sweet corn and almonds, drizzling with your desired dressing. Sprinkle over the mixed chia + flax, some finely chopped fresh herbs and the Green Boost.