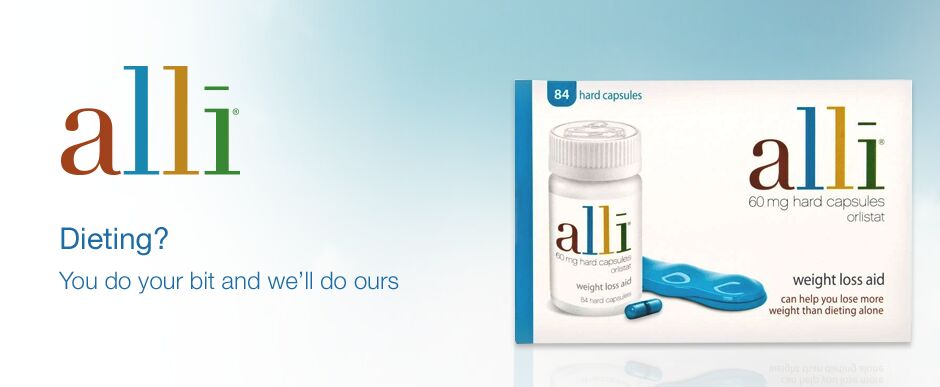 alli Slimming & Weight Loss Capsules
If you have a BMI of 28 and over, are 18 years of age and over and above all else, are committed to healthier eating with the main result being to lose weight, then Alli Capsules are the solution for you especially if you have tried many other ways to lose weight and not lost as much weight as you expected.
What is Alli?
Alli is the reduced-strength version of the active ingredient orlistat, found in the prescription slimming drug Xenical to help treat obesity. Difference being, alli can be bought at a pharmacy without a prescription, to overweight adults aged 18 years and over. Please note: Alli is meant to be used in alongside a low-calorie, low-fat diet and regular exercise.
How does Alli work?
Alli works by reducing the amount of fat absorbed in the intestines, which then reduces the number of calories you absorb.
Alli works by restricting the action of Lipase in the digestive tract (an enzyme that helps break down dietary fat into smaller components). By preventing the enzyme from breaking down the fat while it's in your digestive tract, the undigested fat is able to continue through the intestines and is expelled through the stools.
Take alli capsules with no more than 15g of fat within each meal, up to three times a day. Consuming higher amounts of fat can cause undesirable side effects, such as urgent bowel movements, diarrhoea and gas with oily spotting.
How much weight could I lose using Alli?
Alli can help you lose weight, but the weight loss likely won't be great - perhaps just a few pounds more than you would lose with diet and exercise alone. Only a small number of studies have evaluated the effectiveness of Alli. And many of the weight-loss estimates are based on studies conducted on its prescription-strength counterpart, Xenical.
The average weight loss for prescription-strength Xenical is modest - about 6 pounds more than diet and exercise alone after one year. So at half the strength, Alli could result in an average of 3 pounds lost in a year in addition to the approximately 8 pounds you could expect to lose from diet and exercise alone.
Benefits of alli
Increase speed of your weight loss
Allows sustainable weight loss
High success rate
Features of alli
FDA approved fat binder
For adults with a BMI over 28
Boosts weight loss by up to 50%