Shop by Brand
Browse by Category
Coughs, Colds & Flu
Refine by Brand
Browse our list of questions and answers, or ask your own health question.
View questions »
Submit a question »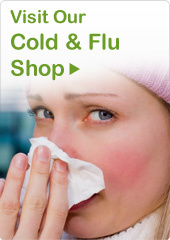 Why Chemist Direct
UK's Number 1

Online Pharmacy

FREE

Fast Delivery

Express

Delivery

Confidential

& Discreet

Regulated

& Approved Pharmacy

Secure

Shopping

Run by

UK Pharmacists

Genuine UK

Sourced Medication

UK Based

Call Centre
Our Coughs, Colds & Flu Favourites
Featured Coughs, Colds & Flu Products
Get your cold relief medicines here at Chemist Direct
Suffering with coughs, cold & flu can be a miserable time. There is nothing worse than sitting around waiting for symptoms to clear up. What's worse is doing so watching day time TV…no-one's a winner!
Need cough medicine fast?
At Chemist Direct we have a wide range of cough medicine including Covonia and Benylin, sore throat relief with Strepsils, general cold & flu relief with Beechams and even provide relief from nasal congestion with Sudafed & Olbas.
If however you decide that you have had enough of suffering with a cold throughout the year, consider taking a supplement daily like Vitamin C, Zinc or Sambucol to help boost your immune system when you need help most.
Let Chemist Direct help you take care of your wellbeing the whole year through