Shop by Brand
Browse by Category
Womens Health
Refine by Brand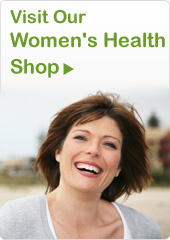 Why Chemist Direct
UK's Number 1

Online Pharmacy

FREE

Fast Delivery

Express

Delivery

Confidential

& Discreet

Regulated

& Approved Pharmacy

Secure

Shopping

Run by

UK Pharmacists

Genuine UK

Sourced Medication

UK Based

Call Centre
Our Womens Health Favourites
Featured Womens Health Products
Find supplements solely for women from Chemist Direct
Hormonal fluctuations within women are usually the main reason for any changes within the body. Menstruation or menopause can cause water retention or mood swings. Hormone levels also dictate the chances of conception if you are trying to get pregnant. Also juggling work and life can be a tedious job so a daily supplement to help support general wellbeing is a good idea.
So what should you take?
Evening Primrose Oil has long been believed to be helpful with symptoms of menopause or menstruation. If you are pregnant, once you check with your GP that they are safe for you to take, there are many supplements to consider including Pregnacare or Centrum Pregnancy Care to ensure you and baby are getting the nutrients you need.
For all your supplemental needs look to Chemist Direct