Shop by Brand
Browse by Category
Excessive Sweating
Refine by Brand
Browse our list of questions and answers, or ask your own health question.
View questions »
Submit a question »
Links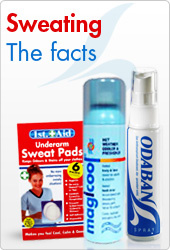 Why Chemist Direct
UK's Number 1

Online Pharmacy

FREE

Fast Delivery

Express

Delivery

Confidential

& Discreet

Regulated

& Approved Pharmacy

Secure

Shopping

Run by

UK Pharmacists

Genuine UK

Sourced Medication

UK Based

Call Centre
Excessive Sweating
Our Excessive Sweating Favourites
Featured Excessive Sweating Products
Foot Odour Control

150ml
£3.92
YOU SAVE 67p

50ml
£16.49
YOU SAVE £5.93
Get excessive sweating treatment from Chemist Direct
Excessive sweating, otherwise known as hyperhidrosis, can seriously affect one's self confidence, what they choose to wear and who they choose to be near. So begin to build confidence back up with excessive sweating treatment products from top brands such as Odaban to help combat the condition.
Want to stop underarm sweating?
Thankfully Chemist Direct is on hand to provide you with the top brands associated with helping this condition. Perspirex is a truly remarkable product that helps prevent excessive underarm sweating. And yes, although you can try a deodorant for excessive sweating, sometimes you need a little more help especially if it does not just affect underarms, but also hands and feet too. Driclor is a clinically proven effective treatment for hyperhidrosis for underarms, hands and feet.
Sweating can also lead to sweat rash and so in order to prevent the rash you must prevent the sweating. Perspi-guard offers a truly effective sweat liner and Lanacane is great for helping to prevent chaffing. Collectively they make a great team.
Stop underarm sweating with treatments from Chemist Direct