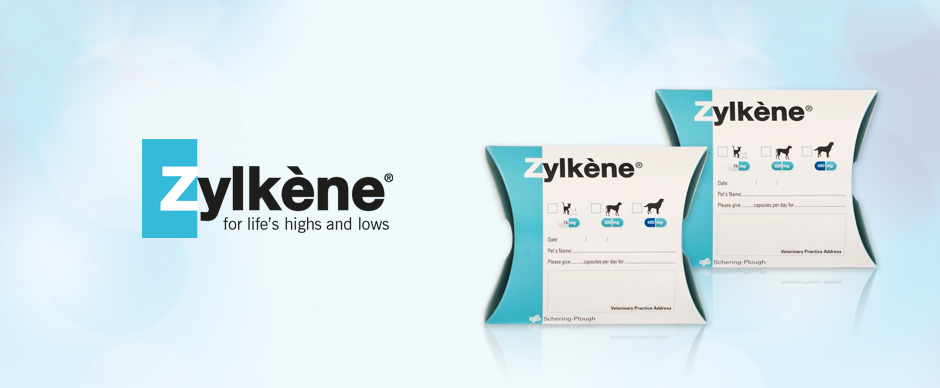 How can I give Zylkene to my pet?
Zylkene is easy to give, and only needs to be given once daily. Simply open the capsule and mix the palatable powder with food or a treat. In fact, we have many reports of cats (and dogs) licking spilt powder! Zylkene does have a 'milky' taste, which appeals to many cats. The powder is water soluble so easily mixes with liquids such as milk, cream, gravy or the oil from a tin of tuna. For big dogs, some owners prefer to give the capsule whole e.g. hidden in a piece of cheese. However, most people find it easiest to mix the powder with a treat. Please contact your veterinary practice if you are having problems giving Zylkene or any other products – they will have lots of tips and practical advice to help you.
Can I give Zylkene long-term?
Yes – Zylkene is suitable for both short-term uses such as kennel visits and continuous use if needed.
My dog has a sensitive stomach – can I give Zylkene?
Zylkene is hypoallergenic, lactose free and preservative free. It is also manufactured to human pharmaceutical standards (GMP). The capsules are made of gelatin, which may upset the stomach for some dogs, so it is best to open the capsule and mix the palatable powder with food or a treat and not give the whole capsule in this instance. Most owners find this option easier anyway. Please discuss your dog's individual circumstances with your veterinary surgeon.
Is Zylkene suitable for all behaviour problems?
No – behavioural problems have such varied causes that no product will be suitable for all problems. Zylkene is clinically proven to help dogs and cats manage stress and facilitate adaptation to change and has been shown to be effective in many common stressful situations. Zylkene has not been associated with any side effects, including sedation or memory loss and is suitable for many pets.
My pet is lactose intolerant – can they have Zylkene?
Yes – although Zylkene is derived from milk and has a "milky" taste – it is lactose free.
My pet is taking other medications – can they be given Zylkene as well?
Zylkene is generally suitable for pets taking other medications. However, we recommend that you discuss your pet's suitability for Zylkene with your veterinary surgeon, as they know your pet's individual circumstances.
What age can I use Zylkene from?
Zylkene can be used in any age of dog and cat - in fact, it can help many puppies and kittens adapt to their new home when they leave their mother.
Will Zylkene help my dog cope at fireworks time?
Zylkene can help many dogs and cats manage stress at this time of year. Firework stress is a very common problem – just under half the UK dog population, and many cats, are affected. Zylklene can also help your pet cope with this distressing problem long-term. However, in some pets the problem is so advanced they will need to have a prescription medication which causes sedation and memory loss. Please discuss your individual pet with your veterinary surgeon, who will recommend the best option for you.