About Hair
Important hair facts:
On average, hair grows 10mm per month. Each hair follicle is embedded approximately 4mm deep in the scalp. The dermal papilla, the hair follicle's root, is fed nutrients through the bloodstream.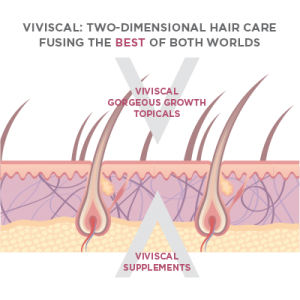 Factors which affect healthy hair growth:
Post-pregnancy
Menopause
Hereditary
Stress
Medication
Poor Nutrition
Over-styling
Hair Extensions
Bleaching
Heat Treatments
About Viviscal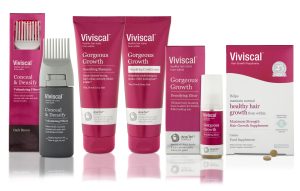 Viviscal is a unique, dual-action system that works on the outside and the inside.
No 1 in the US, this award-winning, clinically proven Viviscal hair growth supplement containing the unique AminoMar C™, delivers thicker, fuller hair by reducing hair fall and increasing hair thickness.
The supplements hair growth benefits are complemented on the outside with the new Densifying range for gorgeous growth (contains Shampoo, Conditioner & Elixir).
Recommended by 92% of customers, Viviscal is the choice of professional hair stylists and trichologists worldwide with a strong A-list following including Jennifer Aniston, Gwyneth Paltrow, Reese Witherspoon, Abbey Clancy, Blondie and Catherine Jenkins to name just a few.