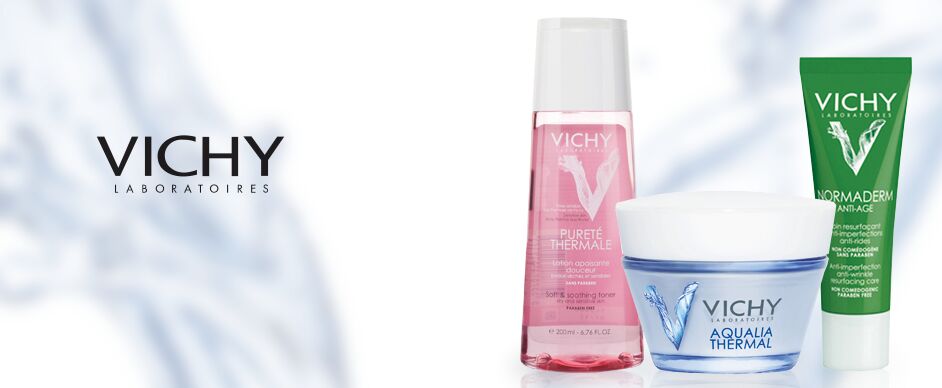 Vichy's Thermal Spa Water
There is one main ingredient at the heart of Vichy that makes their products so unique and ensures you're your skin receives only the best results. Mineral-rich thermal spa water from the hot springs of the town Vichy, France is the only water source used within its formulations, because of its soothing and fortifying properties that are incredibly kind and gentle to sensitive skin. This 100% pure thermal water naturally contains 15 rare minerals and antioxidants, including calcium, bicarbonate, chlorides, ammonium and strontium. These minerals are essential to our overall skin health as they regenerate and refresh the skin. This miracle of nature has the ability to reset your skin's health and provide other amazing skin health benefits.
This ingredient makes Vichy so special because it is so unique and creates a beautifully natural element to their products that cannot be reproduced by science. It is able to soothe and reinforce the skin's natural barrier function to ensure that your skin is protected, fortified and resistant to environmental aggressions. Its antioxidant properties are also able help fight the visible signs of skin ageing.
Allergy tested
Dermatologist tested
Preservative-free
Fragrance-free
Paraben-free
Clinical studies:
Vichy's thermal spring water has been put under many clinical trials to test its effect on the stimulation of the skin's natural defences. It has been proven to increase an anti-free radical enzyme responsible for the skin's defences by 20%.
One particular clinical study looked at 24 women using Vichy's Thermal Spa Water. After use for 7 days, thermal spring water is able to eliminate redness and reduce dryness by 83% and after just 1 month it is able to significantly reduce skin irritation, stinging, itching and burning.