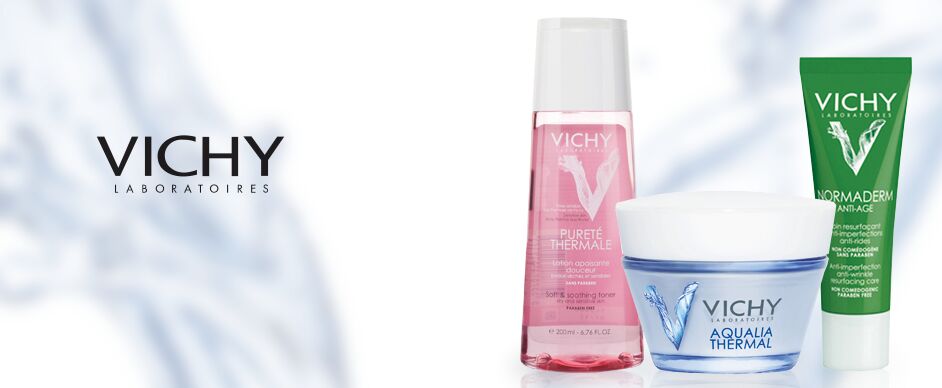 Perfect skin care equals perfect skin
Perfect skin is no longer a dream thanks to Vichy
Everybody's skin is different, but whether your skin is dry, ageing, sensitive or prone to imperfections, it can be transformed. Your dream of ideal skin can come true with Vichy, as long as you are treating your skin right. Not only can the health of your skin be improved, but it can be regenerated and protected in order to reveal the true beauty within.
Vichy strongly believe that you need to focus on the right products for your skin type so that your skin's health can be transformed, as different skin types have different needs. Vichy understands that your skin is precious and needs to be looked after properly, which is why they allow you to nurture, protect and strengthen with products specially tailored to your skin profile. This is why Vichy includes a variety of collections so that you can ensure that you are treating your skin right.
Dry & sensitive skin:
Hydrate your dry and sensitive skin with Aqualia Thermal, Nutrilogie and Vichy Thermal Spa that all aim to nourish and soothe dry skin. They provide intense moisture and help to strengthen the skin's natural moisture barrier to leave your skin refreshed and comfortable. Skin can easily be dried out through the day, but using Vichy can ensure long-lasting hydration all day long.
Imperfections:
Say goodbye to skin flaws and blemishes with Vichy's Normaderm range for pure and healthy skin. This range combats the top 6 signs of imperfection-prone adult skin including blemishes, pores, oily skin, marks and uneven complexion. Your skin care regime is complete thanks to Normaderm and their cleansers, exfoliators and moisturisers will keep your skin under control and free from shine and blemishes. Unclog your pores, sweep away excess dirt and oil and provide a matte texture to reveal skin that looks beautifully fresh and clear.
Ageing skin:
Mature skin requires special care to keep it hydrated, firm and smooth, while reducing the appearance of fine lines and wrinkles. Vichy's Idealia and Liftactiv ranges contain advanced skin care properties that smooth skin texture and even complexion to leave the skin supple, smooth and refreshed with a natural radiance.